About Global Owls
We are a global community of professionals that want to solve the world's biggest challenges.
Our vision
Professionals
A world where every individual believes in his or her own capabilities of changing the world for the better.
World-changing organizations
People and organizations committed to doing good, receiving all the help they need.
Our mission
Prove that we, the people, have the ability to change the world for the better and to build a platform where professionals are empowered to unleash their full potential.
How we work towards our vision
On GlobalOwls.com, professionals are empowered to give advice to organizations that are committed to doing good. this way, non-profits, ngo's and social enterprises can become much more effective.
At the same time, professionals can showcase their skills.
On LinkedIn professionals can get endorsements for their skills, on GlobalOwls.com, professionals can really showcase their knowledge.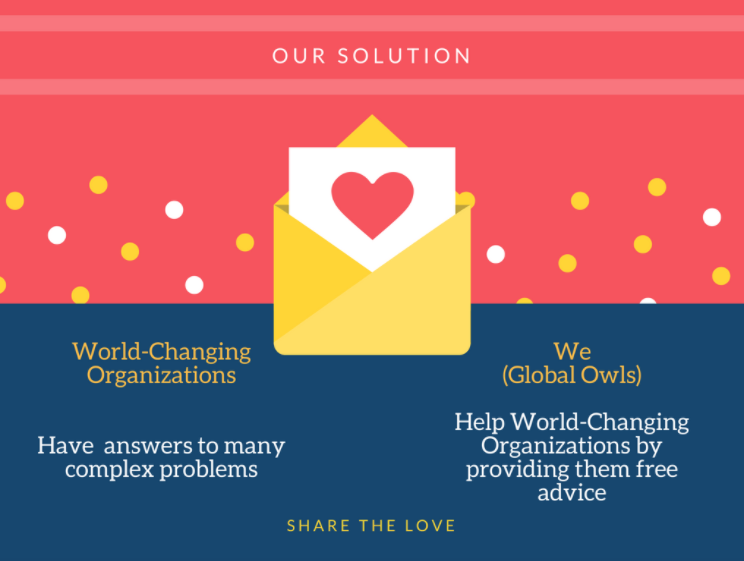 Current state
We've just launched the platform and inviting organizations and professionals to join our vision.
You are more than welcome to give us feedback and approach us for collaboration possibilities. We would love to start conversations on how we can improve this platform.
We truly believe that after refining and optimizing our approach, together, we can help thousands of organizations to help millions of people.
Get in touch on our project page.
Time for action. Are you in?
Show your skills – build a better future. Give advice to Girls United FA, slavefreetrade and/or to Social ImpaKt. Visit their projects pages to get started.