Help Global Owls design a platform for Professionals and World-Changing organizations to collaborate
Get involved – Give advice below
Global Owls is an open collaboration platform. Join our global community to solve big challenges for social good. Sign up, Login or Learn more
Project: Global Owls
Join Global Owls in designing a platform where organizations that are committed to doing good can receive advice from professionals from all over the world.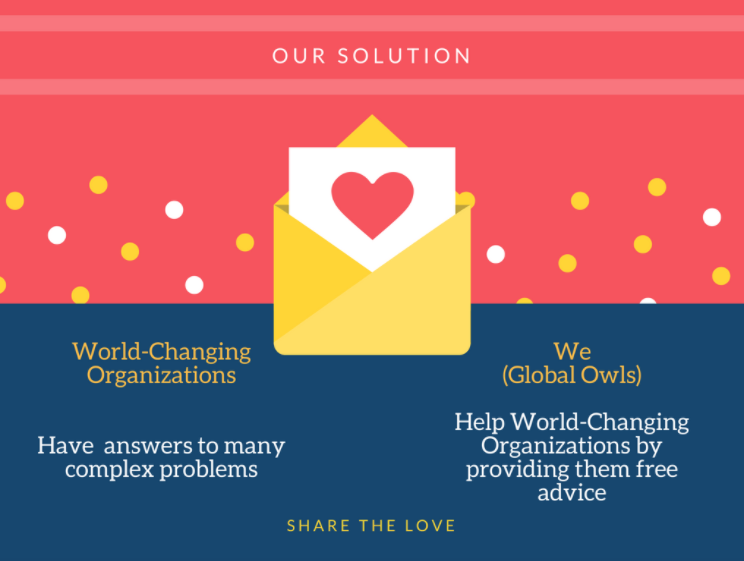 Global Owls's vision
A world where every individual believes in his or her own capabilities of changing the world for the better.
Global Owls's mission
Prove that we, the people, have the ability to change the world for the better and to build a platform where professionals are empowered to unleash their full potential.
Examples of advice needed
Copy writing: To inspire people to take action on this platform, we need strong copy.
Design: We're looking forward to receiving advice on how we could improve our overall look and feel of the platform.
Press: We know that Global Owls can receive plenty of attention from the press. Yet, we're not sure what the best practices are. We would love to hear your input and maybe even receive some entry points.
5 second test: we would like to optimize the clarity of our homepage by measuring first impressions. Go to Global Owls, have a look at the homepage for 5 seconds, come back and write down your first impressions (what you still recall, look & feel, etc.).
Show your skills. Build a better future.
Give advice below.
(Do the 5 second test. It's powerful & only takes about 2 minutes to make an impact.)