Boost your voice with Blogging
You have a strong voice and Blogging can help you reach thousands of people. Josh Wardini shares his advice in the post below.
It is hard to believe now but back in 1999 when the term "blog" was first coined there were a grand total of 23 blogs in existence. Fast-forward to today with millions of blogs, and you would be hard-pressed to find someone who hasn't at least tried writing their own blog.
For some people it's about passion – they have something that they are passionate about, and they want to share it with others. For others, it's a form of expression. Others start blogs to promote their businesses/nonprofit or to earn some extra income.
Everyone has a different reason for starting a blog, and it is really easy to get started. You don't even have to put any money down – there are many different blogging platforms that allow you a free site.
It's so easy! All you need to do is to write the post, come up with a clever heading and hit the "Post" button to get it published. From there it is a simple matter of waiting for your readers to come along. In seconds you can have devoted readers hanging on your every word.
There's the rub, though. Back in 1999, when you would have only had another 22 blogs to compete with, you could just sit back and wait for readers to come to you. Now that you are competing with millions of other blogs, though, you need to put in more effort.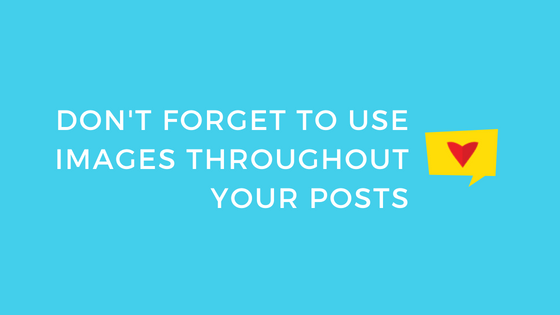 And not just a little bit of effort either. A good deal. Everything, from the title, the images you use and the subjects that you write about needs to be carefully selected.
Did you know, for example, that blog posts with images get 94% more views in total? Or that readers tend to spend around about 10% longer looking at the pictures than reading the content.
So, while the content that you are providing has to be engaging, you also have to make sure that the pictures are brilliant as well.
And, contrary to what you might think, slightly longer posts are actually better. Posts that have more than 1500 words generally receive 68.1% more tweets and 22.6% more Facebook likes.
It's not just the retweets or like that count, though. Organizations that blog get 126% more lead growth than those that do not. Almost two-thirds of site visitors feel more positive about an organization when they see custom content, so blogging pays off big time.
That is why it is vital to get this right from the outset. If you have an organization, you cannot afford not to have a blog, and you have to put some effort into making it a success. The ROI on blogs can be significant once you hit the winning formula.
Quality blog posts can go viral and can play a crucial role in spreading the word about your organization and the activities it engages in.
How to get started with Blogging
Start off with a paid domain name and professional hosting. While free site builders are available, these can be a serious strategic mistake to make, as they come with forced ads, huge domain names and other restrictions.
Building a blog with WordPress and hosting it with a specialized host makes the most sense if you are serious about it.
WordPress can be downloaded for free. It is easy to use and makes it simple to create a blog, even if you have no coding experience at all. The layouts can be as simple or complex as you like and there are a number of plug-ins that you can download to make your blog even better.
You can choose to build your site from the ground up or select one of thousands of themes instead. You will have a range of analytic tools at your disposal so that you can see exactly how well your content is doing.
Choosing the right host is important, as you can get stellar support and a truly optimized environment. Both will make your life much easier.
If your organization is a non-profit, you can inquire with the web host for free or discounted hosting. Some web hosting companies have special plans for charities and other socially beneficial organization. Inquiring about such a plan can help your budget by some margin.
All in all, creating a blog for your business or organization is a smart move. WordPress makes it a lot simpler to create and manage your blog. It makes sense and is mere cents to find an adequate hosting for the platform.
Not convinced yet?
Check out the infographic below and see for yourself the far-reaching benefits a blog can have.

Over to you
Share your thoughts about blogging in the comment section below. I'm really looking forward to reading your comments about how your blog helps you achieve your goals, what you've learned and what's difficult for you.
You have a story to tell. We want to help.
Let's create memorable content and reach tens of thousands of people.