Differentiation is the key in this internet era
A special guest post by Michael Vuong on how being genuine is key in an internet era of abundance.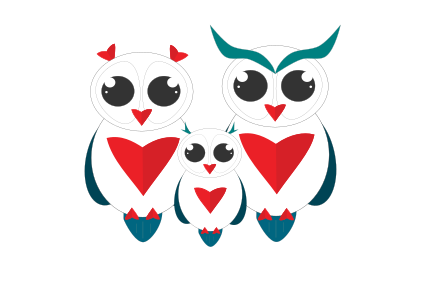 In the 80s it was incredibly hard to get your name out there. How charities worked was trying to get flyers or get people to donate in cash. With the internet, a lot has changed There are more charities than ever. So that begs the question how these charities put their message out while being authentic?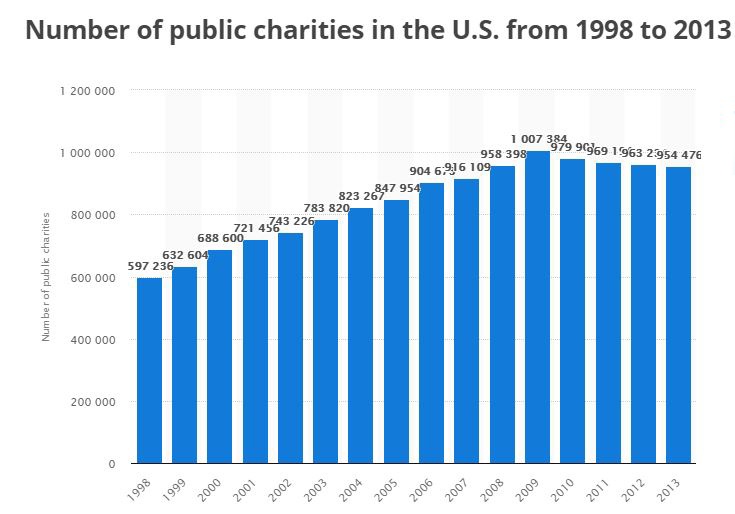 Over the past year, we can see there is a significant rise in charities in just the USA since the introduction of Facebook in 2006 (source). 
Everybody has a story to tell but there is a limit to how much money people can donate to a good cause. Like any commercial companies, even non-profit organizations have to differentiate themselves the same way an SMB would do. This can be done for example by creating content (telling your story in either written words or compelling images) or by having a unique approach that benefits both sides of the equation (the donors) as well as the organization).
Nothing in this world is perfect
To get the word out there in this day and age, it is obvious to use the social media platforms to get known. Since there is already so much content out there and everyone is fighting for the audience, an authentic concept is very important. If you are trying to build your organization around content then go 100% for that. Don't be afraid if the video isn't the highest production value, or it isn't as smooth as the commercial that Unicef made. The authenticity comes from you as a person and the way you bring the message to your audience.
When you are trying to translate your message, try focusing on a specific audience. Find your niche, once you got this on the cards it becomes increasingly easier to figure out where the attention goes. You soon find out what these groups interests are. This will give you enough ammunition to create and build your content on. You will be amazed at what you are able to find on social media by simply using a hashtag!
Putting the word out
Once you know what your vision is and what your voice is, what's next? What kind of content are you going to create around your organization? When looking at today's trend it is very popular to have either a live talk show or to run a podcast. There is not so much content on these platforms (as of writing this article, if you read this in 2021 the tables might have turned). When distributing your content and you are leaning more towards either Instagram or Facebook, read this blog here about the algorithm of Facebook and some interesting information about Instagram. But if talk shows are not your forte then you can still consider storytelling. The entire point of content is creating something that gives value to the receiver.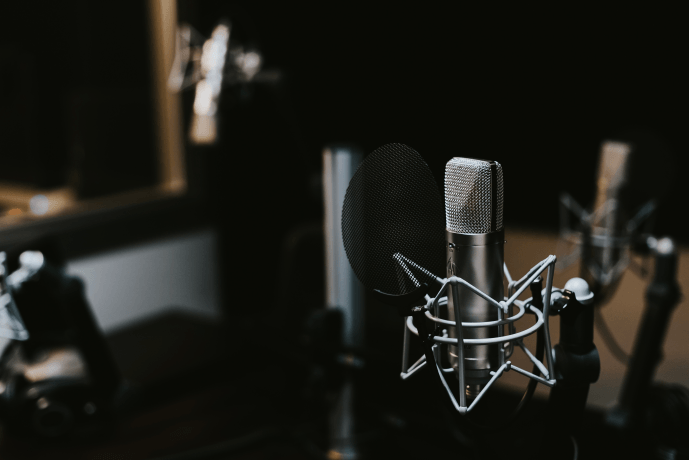 Content is not the only thing that many people use to separate themselves from the pack. It usually is a combination, what kind of other values besides content can be given to others. If we look at this aspect we can say what kind of unique platform are you creating. If we take a look at non-profit organizations we can definitely say that those organizations attract more attention.
At GlobalOwls we have understood that simplicity combined with the right features will attract the audience into action. When I was looking around on the internet on how other non-profit organizations were trying to figure out their concepts I found ones that really caught my attention. I took a look at several platforms that I wanted to highlight out as an inspiration for you to build your own.
4 examples of nonprofit platforms that caught my attention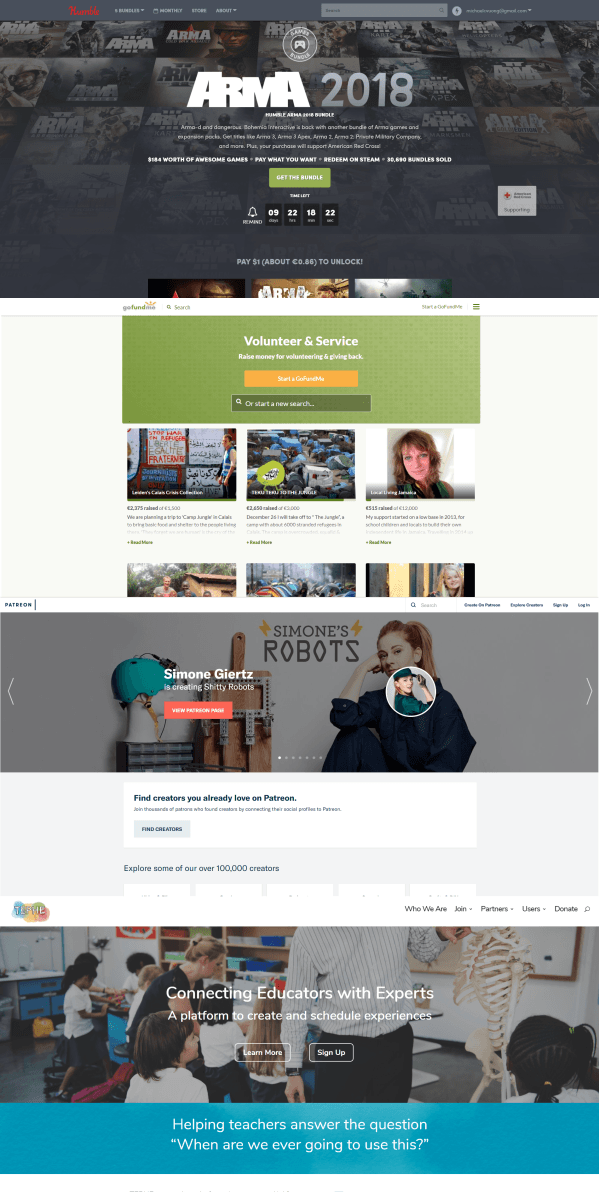 Humble Bundle, GoFundMe, Patreon, TEPHE Education
Humble Bundle  
Humble Bundle decided to focus on gamers who don't have an awful lot to spend. Started in 2010 their concept was simple. Donate as much as you want and we will give you the games in our bundle BUT if you donate above average than you receive bonus games. This concept was a huge success amongst gamers. Even developers were happy to jump on board to figure out how they could contribute to the cause. What made this concept so unique was the fact that each donor had the power to decide how much Humble Bundle received and how much the charity (that humble bundle picked) received. The value for the donor? He received the games for a small price (far below the retail price!).
GoFundMe
GoFundMe is one of the platforms that stuck out, although there are many similar platforms this one sticks out for me. Besides that, who doesn't know GoFundMe, right? For those who are not familiar with GoFundMe, this platform offers everyone a page to tell their story about why they would need money. Of course, everyone could abuse this you would think. With some good moderation (and a verification system) they are able to tell whether the cause is genuine or just for personal gain. What makes this platform so special is that it is for everyone!
Patreon
Like the GoFundMe, Patreon is solely heavily focused on media, we see a lot of wonderful artists here who are fairly unknown. What makes it so different is that GoFundMe accepts a one-time donation. To add another element Patreon decided it would put it in a subscription model. This way you can support your favorite artist without having to worry to donate every month to that specific person to survive.
TEPHE Education
What TEPHE tries to do, that is currently not available, is to create a platform for educators. What makes TEPHE different than the ones mentioned before is that it is not focusing on gathering money to create an opportunity for other charities. TEPHE is creating a community for educators and professionals. What we have seen from TEPHE is that they have successfully put their name out there with an incredibly low budget.
Now that you got all this information there would be no real excuse to not start working on your ideas. Whether you are looking to create a company or non-profit organization. I am excited to hear your stories and what you have done to separate yourself from the pack in the comments below!
You have a story to tell. We want to help.
Let's create memorable content and reach tens of thousands of people.