How to Increase Traffic on Your Blog: 10 Proven Methods
Want to increase your traffic to your blog? Check out these 10 proven methods to get more traffic for free. Get started today and grow your blog.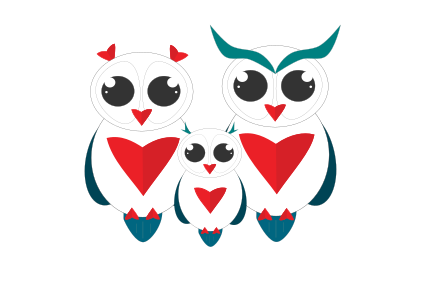 If you feel that your content marketing efforts don't bring you traffic, you shouldn't fall into panic. You are not alone who has the same issue.
Yes, you might be doing something wrong in terms of your content marketing strategy. But it doesn't mean that you are doomed to failure in the future.
By following these 10 proven methods you will get a desirable result – your traffic will skyrocket.
Let's cut to the chase!
1. Your Target Is Topics With Traffic Potential
Theoretically, you can write about whatever you want that would be related to your niche. However, it doesn't guarantee that you will attract visitors to your blog regularly.
You should realize that there are topics that might trend with a particular period of time. In other words, if you cover niche-related news, you will get traffic until people are curious about these hot topics. Once the topic becomes not so interesting, your traffic starts to fade away.
Hence, your primary goal should be exploring the topics that your target audience is looking for.
One of the most straightforward ways to find what people want to read about is with the help of Google. When you start typing your inquiry, Google suggests you related terms that your target audience searches for: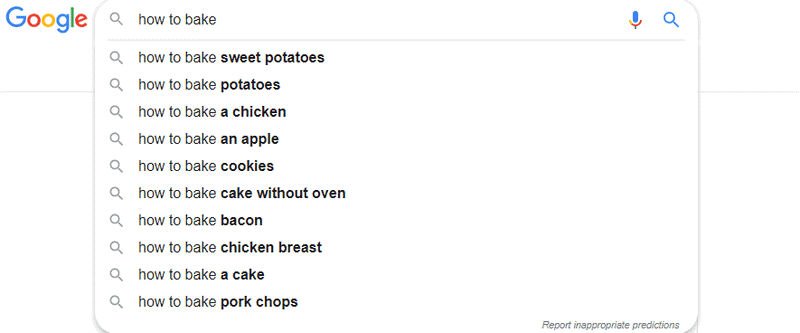 Unfortunately, Google can't tell you how these topic ideas are good in terms of traffic. Likely, you can these stats using "Questions" report from Keywords Explorer tool: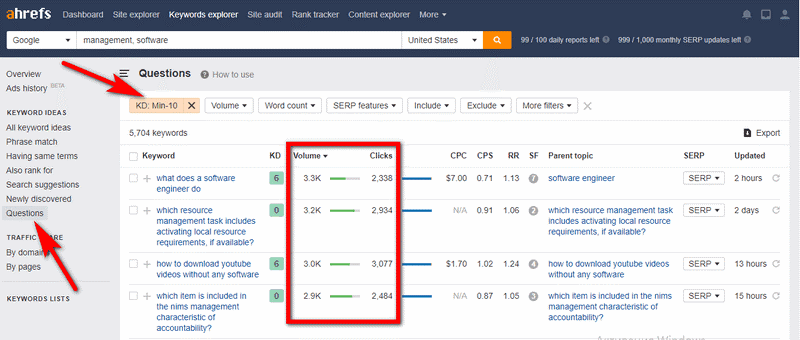 If your blog is young, you should be focused on less competitive keywords for your blog post ideas. To filter down the results to keywords with a low keyword difficulty score, you should apply a maximum criterion as"10″.
Now you know how to find traffic potential topics. Your next step is to match search intent with your content.
2. Don't Forget About Matching Search Intent
If your content doesn't align with search intent, it won't be consumed by your target audience.
Since Google tries to suggest users the most relevant search results, your task is to create content that would match the intent behind the user's query for a hundred percent.
The simplest way to figure out what type of content you must target is to see what Google suggests: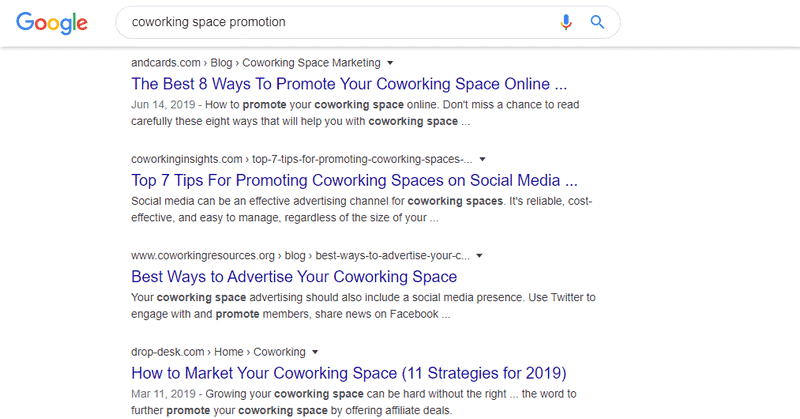 As you can see, the majority of the results are "how-to" and "tips" type of content.  To sum up, if you want to write a piece of content on "how to promote a coworking space", you must create a step-by-step tutorial or impress with some actionable tips.
By using this approach you will always know what type of content you must produce.
3. Make Sure You Create Comprehensive Content
Why is it important to create in-depth content?
Google understands that people search for the same topic but use different queries for this. For example, such queries like "play chess", "chess rules", "chess for beginners" fit under one topic – "how to play chess":

This all-embracing guide that covers the principles of the chess rank for lots of keywords. The reason why it happens is that content highlights the topic in detail.
To create in-depth content you must be aware of the topic you cover and lean toward producing an "evergreen" type of content. Moreover, a good practice is to write "lists" content that you can always update with some new information.
For example, we have created a guide on coworking spaces in the US that we update with new space each month.
You can use different types of content that would bring you more traffic.
4. Accept Guest Posts on Your Blog 
Guest posting is an excellent way to keep your content plan updated and it is a wonderful opportunity to get high-quality content from niche experts.
The benefits from guest posting are:
A guest author can enrich your blog with useful content
Any guest post can be shared across social channels of the author who has contributed
You always have a chance to get a backlink from third-party resources
Your blog gets more exposure
Furthermore, you can invite niche-related influencers to contribute to your blog as well. It will help you build friendly relationships with these experts and promote your brand.
(Want to write a guest post for GlobalOwls, check out the options)
5. Newsletter + Email List
You need to introduce your content to your existing audience. Hence, make sure you have a pop-up on your blog that offers the visitors to subscribe to get fresh content.
It will help you build an email list and use it for sending a newsletter with content updates or other website related stuff.
6. Always Reach out to Brands (People) You Mention in Your Content 
It has already been mentioned that one of the benefits of in-depth content is that it allows you to update it often. And if you like to write "lists" posts, you can include different brands and niche-related experts to your content.
What does it give you?
You can reach out to any brand or a person featured in your post. By doing so, you will increase brand awareness, build business relationships with niche experts, and acquire backlinks.
For example, we have featured one coworking space in one of our publications. When this piece of content was released, we reached out to the CEO of the mentioned coworking space and introduced our guide: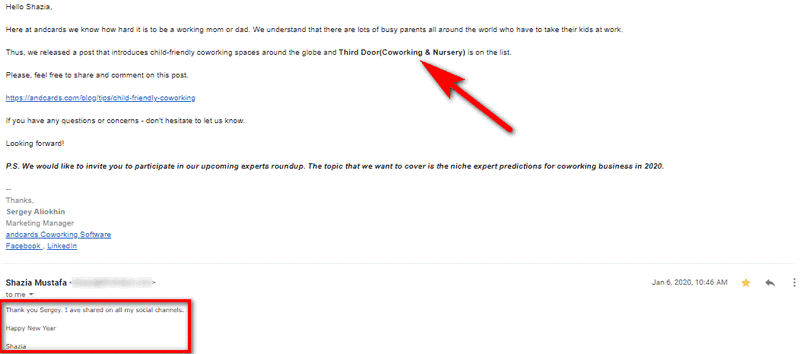 As a result, we got exposure to our content and a social buzz. Further communication ended up with co-marketing initiatives between our companies.
You can do the same in your content marketing strategy.
7. Link Building 
It is a well-known fact that backlinks are critically important for your website. It is one of the SEO factors that helps your website ranking high on Google.
There are different link building techniques. Some of them are shady ones (links from irrelevant websites, cross-linking, purchasing links), the others belong to the "white-hat" SEO division.
Any SEO nerd would agree with the statement that guest blogging is the best way to acquire backlinks. You share high-quality content on a target blog and get a backlink in return as your reward.
The question is how to find niche-related blogs that would accept guest posts?
You can use a few search operators on Google:
[topic] "write for us"
[topic] "guest article"
etc.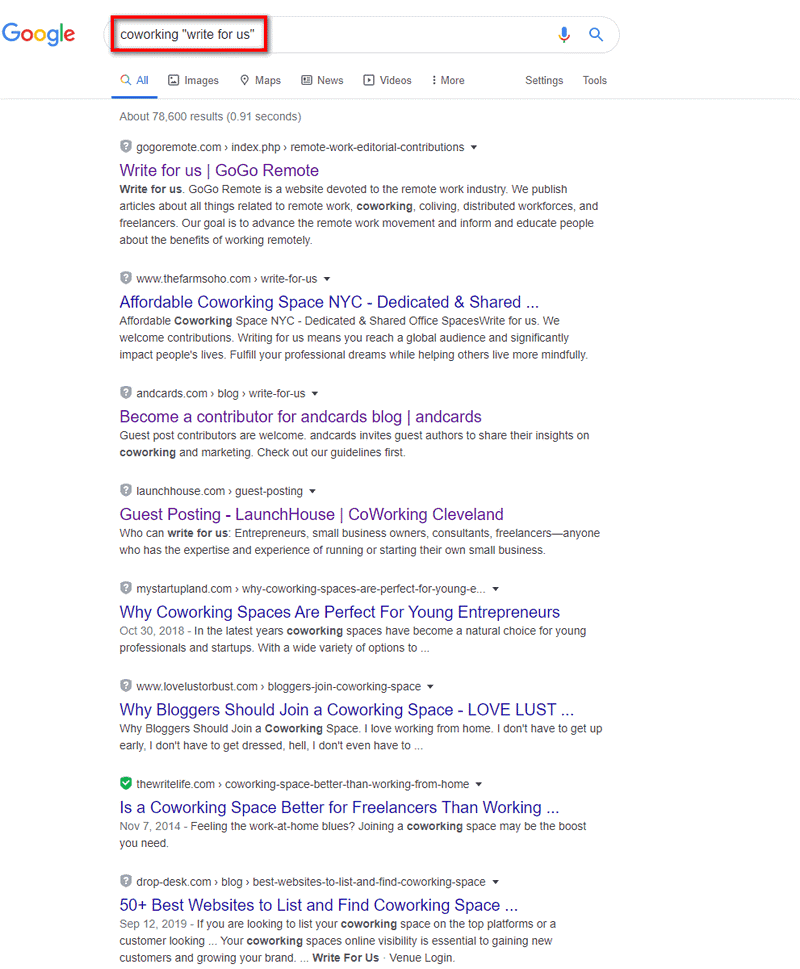 Google suggests a list of all related to your niche blogs that accept guest posts. Skim through these suggestions and make your best with your guest post pitch.
8. Internal Linking 
If you notice that some pages on your website lack of traffic, you should boost them using internal linking.
What is internal linking?
Internal linking is the process when you link from the page "A" to the page "B" on your website. But how to figure out which pages require a boost?
Go to Google Search Console and check out the "Search results" report that you can find in under a "Performance" section. Narrow down the results by applying the "Positions" option with "Smaller than" 6 filters:

The next step is to choose the pages to add the internal links from. Google search operator will help you. Let's say you decided to add a few internal links to your post on SEO tips. Type in Google this command "site:domain.com/blog "topic of the post":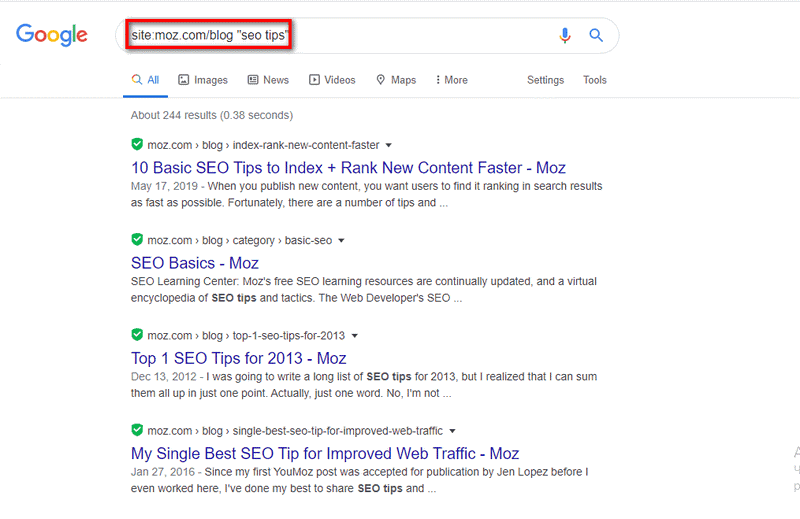 Review the pages and find the places where you could add internal links with a relevant anchor text.
9. Content Promotion Across Niche-Related Communities
If you don't promote your content, it won't generate more traffic. Especially if you promote it within the communities where your target audience is present.
These communities are spread all around the web. You can find them on:
Here are a few examples of coworking niche communities on Facebook: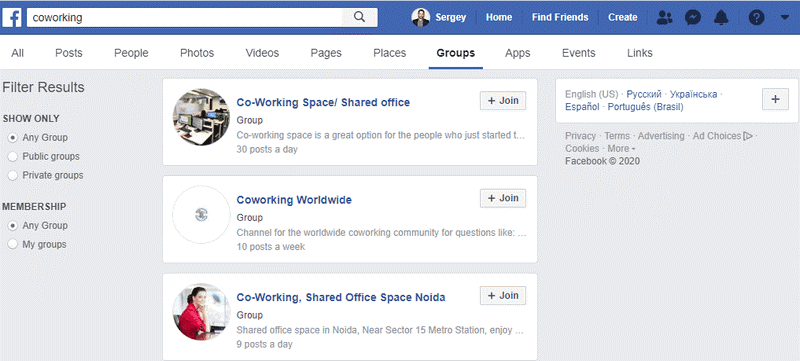 How can you use these communities to promote your content?
By actively participating in different threads. Share your expert knowledge and prove your statements with including the links to your topic-related content.
Simple, right?
10. Don't Forget to Run Ads
Online advertising costs you money. This is the only drawback of the ads. Likely, you can choose the budget that you can invest in paid advertising.
The best thing that online ads can give you is a solid traffic boost that you can experience on your website. You can run ads across different platforms simultaneously. But if you have never tried running ads, you can start with Facebook and Google ads.
Another one negative aspect of the ads is that your traffic starts to fade away right after your ad campaign completes.
To Conclude 
You have just got familiar with ten tactics that aim to help you increase traffic on your blog. You can use these tactics separately. But if you want to increase traffic drastically, you should combine these methods.
Keep in mind that each strategy has its pros and cons. Thus, consider using these tactics wisely.
If you think that this post misses some other strategy, feel free to share your thoughts in the comments.
Author's bio:
Sergey Aliokhin is a Marketing Manager at andcards. He likes exploring everything related to marketing and SEO. In his spare time, he likes to read some interesting books, play the bass, and study martial arts. You can drop him a line on LinkedIn.
You have a story to tell. We want to help.
Let's create memorable content and reach tens of thousands of people.