Interview with Christophe Claude Charles-Alfred, a board member of Kids Empowerment
Learn how Kids Empowerment aims to realize the full development of children and youth by full compliance with international law & best practices.
We have interviewed Christophe Claude Charles-Alfred, a board member of Kids Empowerment and legal expert in Human Rights Law, notably child rights law and transitional justice to learn more about his background story and the future he hopes to create through his work
Get inspired, get involved and ask any questions you like.
Let's get started!
Q:

What is your biggest life lesson, or key takeaway from this interview, that you would like to stick with our readers?
Christophe: Children are the greatest wealth of humanity. They are the present. Indeed, on the African continent, for example, more than half the population is under twenty years of age. They are also the future because one day, when they have acquired enough maturity, they will take power. It is therefore up to us today, we adults, to protect them because they are fragile, and to support them in a logic of empowerment.  
Q: Can you tell us more about yourself? What is your passion?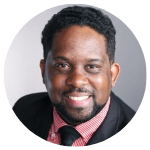 Christophe: My name is Christophe-Claude Charles-Alfred. I'm 38 years old. I am a law researcher (I am a collaborator member of the Caribbean Laboratory of Social Sciences at the University of the French West Indies) and a young entrepreneur working to promote natural vegetal fibres. Finally, I am also a co-founder with Caroline Newman and Anna Kurdova of Kids Empowerment. I like music and cinema.
Q: What was the inspiration for starting Kids Empowerment and how did you get started?
Christophe: Caroline Newman, Anna Kurdova and myself, all three jurists specializing in the protection of children's rights, have been particularly concerned about the massive arrival in Europe of children on the move. We were eager to help them. In addition, we asked ourselves the following questions: who are they? Where do they come from? What difficulties have they faced during their migration journey? Do European States provide them with a sufficient level of protection? Do they know their rights? We also wanted to facilitate the meeting between these children and ours so that they could become the main actors of their own destiny. We created Kids Empowerment to make our ambitions come true.
Q: What were your biggest challenges up until now?
Christophe: There are two: the first is an international survey on child migration around the world. I would like to take this opportunity to thank all the partners for this action. The second is the creation of a digital application enabling unaccompanied minors to know their rights once they have arrived in Europe in general and in France in particular. These two projects are ongoing.  I would also like to ask all those who would like to help us to join us because "alone we go faster, together we go further!"
Q: What are your happiest moments with Kids Empowerment?
Christophe: These are moments of sharing and meeting with the other members of the association as well as with the trainees.
Q: What future do you hope to create through your work at Kids Empowerment?
Christophe: As the name of our organization indicates, I dream of children's empowerment because they are the only ones capable of taking their destiny into their own hands. They just need the support of adults. To illustrate this idea, I will quote an extract from Khalil Gibran's book, The Prophet:
Your children are not your children.
They are the sons and daughters of Life's longing for itself.
They come through you but not from you,
And though they are with you yet they belong not to you.
You may give them your love but not your thoughts,
For they have their own thoughts.
You may house their bodies but not their souls,
For their souls' dwell in the house of tomorrow, which you cannot visit, not even in your dreams.
You may strive to be like them, but seek not to make them like you.
For life goes not backward nor tarries with yesterday.
You are the bows from which your children as living arrows are sent forth.
The archer sees the mark upon the path of the infinite, and He bends you with His might that
his arrows may go swift and far.
Let your bending in the archer's hand be for gladness;
For even as He loves the arrow that flies, so He loves also the bow that is stable.
Q: What is the biggest obstacle you face in achieving this future?
Christophe: The resistances and conservatism of adults.
Q: How can readers participate in helping you achieve this future?
Christophe: Having confidence in our children who already have the solutions to the questions we are asking ourselves. It is time for each of us to take our responsibilities and act at our level and not wait for others to do for us because they will always act in their interests. There are no big or small actions. There are only actions! The most important thing is that every action taken is carried out in conscience. Many people want to change the world but do not know how to do it. I think it starts with a look, a smile, a thank you.
Over to you
Share your thoughts about Kids Empowerment and ask any questions in the comment section below. I'm really looking forward to reading your comments.
You have a story to tell. We want to help.
Let's create memorable content and reach tens of thousands of people.