How to write email newsletters that people actually want to read
Do you want to engage your audience? Email Newsletters are perfect for doing that. Here's how to write engaging emails that people will actually read.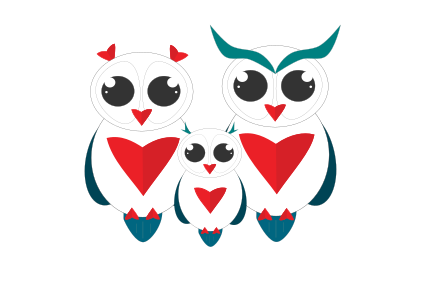 A newsletter is a tool used by brands, marketers, and content creators to distribute crucial and relevant information to subscribers, prospects, or customers. Newsletters allow them to have access to the inbox of their audience to engage, advertise, or direct traffic to their website.
How to write a great newsletter 
Writing newsletters should be very easy for anyone who has previously written web contents because similar rules apply. But to get the most of your newsletters, you need to write catchy headlines, readable paragraphs, and engaging subheadings in your newsletter.
First, you need to understand the purpose of an email newsletter which is mainly to engage your audience and establish relationships rather than for promotional purposes. Let's look at the elements that make up a newsletter and how to write one.
Name
The name should have a person's name instead of noreply@company.com to establish familiarity.
Subject line
Let the subject line be catchy and relevant to enable your subscribers have a glimpse of what they want to read. For the character length, let it be between 55 and 75 words.
Body
Although you want to make sure your newsletter carries every bit of information, make sure it is clear and easy to read. Make use of short sentences and active voices to facilitate clarity.
When deciding on whether to use plain text or Html in your email newsletters, keep in mind that even though Html facilitates a more impactful and effective visual appearance, users tend to flag heavy emails as spam. According to statistics, plain text seems to generate more open rates than Html emails. Therefore, the best option is to combine both plain text and Html in your newsletter. Always give your audience the option of viewing your newsletter on a single page or plain text whenever there are display issues.
A few things to note when creating Html emails are:
Include a header, to increase visual interest and helps to initially establish your brand.
Categorize the body
Include share button, social icons, and footer.
Other crucial things that should be included in your Html email are brand logo, headings, a face of a human, and a CTA.
Examples of effective newsletters
Before developing an effective newsletter, you can review a couple of newsletters you know have provided good results. You can check out the design, format, and other elements to have an idea of what is expected.  A few examples are provided below.
Shopify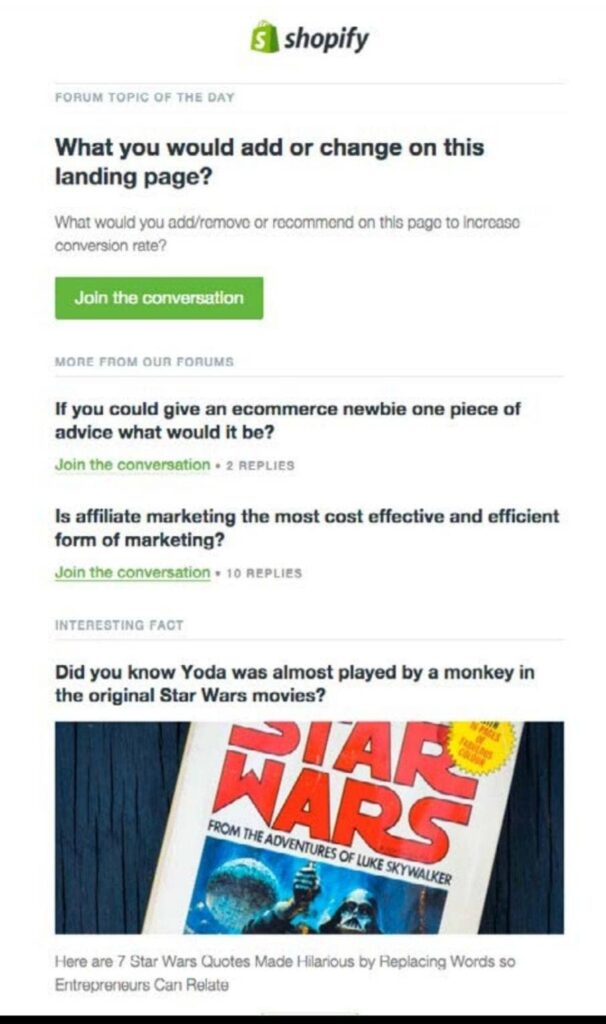 BrainPickings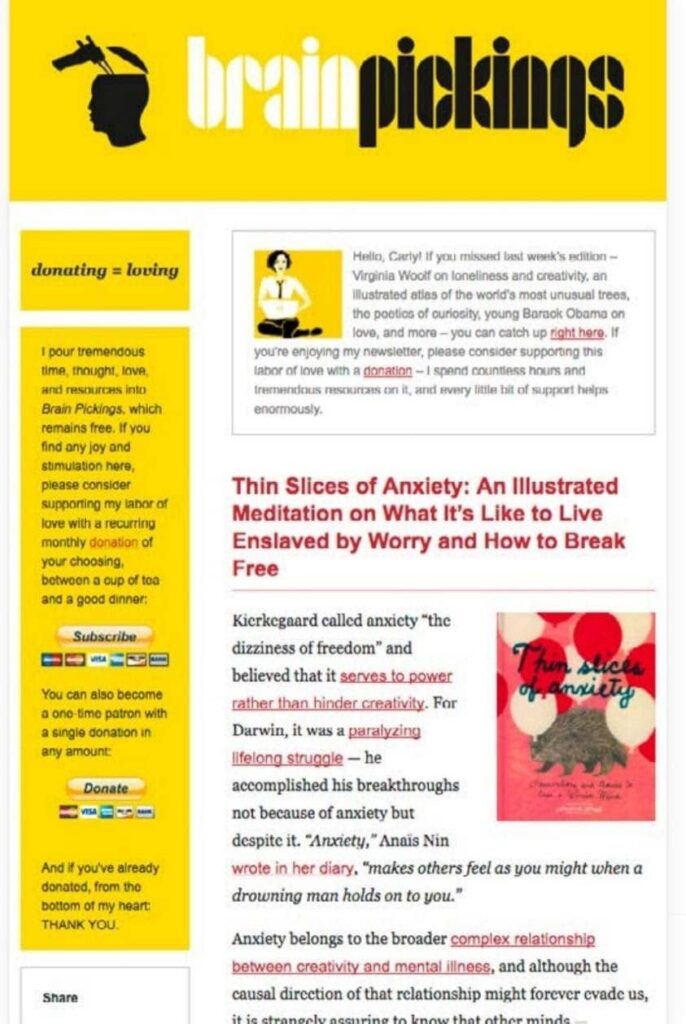 Below The Fold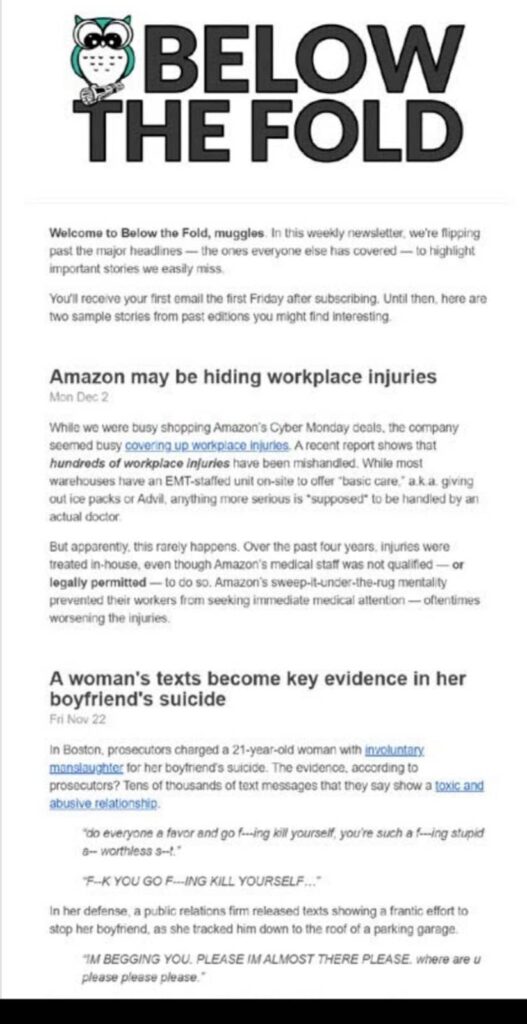 Should you create an email newsletter?
Deciding whether or not you want to include a newsletter in your marketing strategy will be determined by recognizing the potential benefits email newsletters offer for your business.
Typically, your list contains people with a level of interest in your business, and reaching out to them through your email newsletter will be more receptive than those on social media or search engine promotions. You can also tailor your products and services to meet the specific interests and needs of your audience using your email newsletters.
It can also help you drive consistent traffic, provide crucial metrics that can be used to make informed future decisions, and considering that it is usually in the inbox of your audience, it can encourage a more deliberate engagement with your content.
Types of newsletters perfect for your brand
Several types of newsletters are available that will make sure your audience receives fresh and insightful updates from you. These includes:
Informative newsletters, used to provide the latest brand or product news, tips and tricks, launches, or general news.

Promotional newsletters, used for sending coupons, discounts, offers, and opportunities.

Fun newsletters, for encouraging customer participation.

Helpful newsletters, used to provide insights into products and services.

Events newsletters, for brand events, product launches, seminars, and trade shows.

Therefore, your content marketing strategy and objective will determine the type of newsletter that would be sent but most importantly, there should be a content balance. After determining the type of newsletter you choose to send, another crucial thing is the frequency because you don't want to bombard your audiences' inbox which could lead to being blacklisted.
Balance content to 90% educative and 10% promotion.
There is every tendency that your audience is more interested in your offers. Even though they are expecting they hear from you, if you focus too much on fun and promotions, they will find the exit door before long.
It is important that your newsletter is rewarding for your audience. Develop content s that will inspire them, motivate them, and educate them. You need to focus more on their needs and interests than promoting your offers. Promotional newsletters should only be used when you have major news about your brand, product, or service.
Necessity of email verification 
Running a campaign without email verification is similar to playing darts in the dark. Even though you are hitting a target or close to it, you won't know what you are hitting. The only way you can guarantee that your message is reaching the right audience is by making sure your opt-ins verify their emails (double opt-ins).
Email validation helps to ensure that your list is active, accurate and error free. It also helps to increase your sender's score, avoid the possibility of being flagged as spam or getting blacklisted, and evade IP address restriction.
Set expectations on your subscribe page
After you've discovered the objective and the content balance, ensure that you are providing the right information to your audience on your subscriber's page.
Be specific. Provide your audience a peek of the kind of information contained in your newsletter and the frequency of sends to expect from you.
Be creative with the email subject line
There is usually no guarantee that your subscribers will open your email newsletter in their inbox even if they subscribe to your list. A trick some marketers use to establish familiarity is to use a similar subject line in the newsletters they send every week.
But using this method can become old and out of style as subscribers are not motivated to click or any possibility of getting something beneficial. Therefore, it is important to make sure the subject lines in your newsletter are creative, unique, engaging, and appealing to your subscribers.
Pick one primary call-to-action
A major feature of a newsletter is the use of content and multiple call to actions. However, this doesn't mean all these call to actions should be prominent. You should have a major CTA that will determine what you want from your subscribers. Other CTAs should be alternatives or other options for your subscribers. This could be a share button or a click-through to a landing page, but ensure that it is a simple enough task.
Keep design and content minimal
An effective method of avoiding cluttering your newsletter is to always create concise content and sufficient white space in the design.
Since your objective is to engage and direct your subscribers to other places on your blog or landing page, making your copy concise will let them have a glimpse of your content such that they would be motivated to click and discover more. White space makes it easy for your subscribers to read your content, especially on mobile devices.
Ensure your images have alt text
Visual contents such as images are usually included in your email newsletters to improve their appearance and visual effects.
But always keep in mind that some people don't usually enable images when reading emails which is why you should enable an alt text for each of your images. Alt-text is a text that appears as a substitute for images when it is disabled or not loaded. This is very important, especially for CTA images to ensure that your audience is able to click them, even without loading images.
Make it easy for your audience to unsubscribe
Even though we always want our subscribers to stick around for as long as possible, allowing anyone who intends to leave the opportunity without hiding the unsubscribe button or replacing it with another text is the right thing to do. A clear and visible unsubscribe button will not only keep your list healthy but help you focus on those who are interested in your brand. But don't forget to ask why they want to leave to discover what has gone wrong with your newsletters.
Wrapping Up
The steps outlined above should be used if you intend to develop the kind of newsletter your subscribers would love to read. Keep your copy concise, straightforward, and interesting. Make sure your content is relevant and valuable to your audience. Most importantly, don't forget to A/B test your designs, text, and links to gain insights into their performance and help you improve future sends.
You have a story to tell. We want to help.
Let's create memorable content and reach tens of thousands of people.