Raise your voice for Women Empowerment
In February and March, GlobalOwls is committed to empowering women to flourish.
Girls and women are essential to building healthier, better-educated and sustainable communities.  Unfortunately, they're facing multiple big challenges. In poorer countries but also in the United States and Europe.
We've come a long way in fighting gender inequality, dogma, and insecurity, but much more is needed. Here's how we do our part and how you can help.
Raise your voice
We're raising awareness by distributing content via multiple platforms. You can help by raising your voice and sharing your own stories or make use of existing content. We need to let girls and women know that they need to be brave and happy, not perfect. We also need to demand from elders and governments to take actions.
Don't want to use your social accounts? You can raise your voice via us. Donate to help us reach more people. Any amount donated is highly appreciated!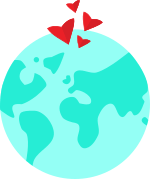 Partnerships
Are you an NGO, Nonprofit, Social Enterprise and want to share your story on Women Empowerment? Contact us for how you can make good use of GlobalOwls's platform to reach tens of thousands of people. Send an email to hi @ globalowls.com.
Are you a for-profit organization and passionate about building healthy women communities? Let's discuss sponsorship opportunities.
Share your thoughts below. How can GlobalOwls help you?