Best LinkedIn Groups Entrepreneurs should Join in 2023
Are you an Entrepreneur and looking to build relationships, learn and share your knowledge? LinkedIn is the place for you. Be sure to check out our list of Best LinkedIn Groups every Entrepreneur should Join below.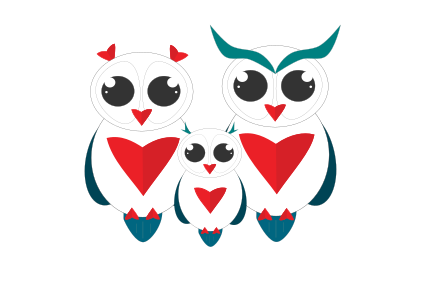 LinkedIn groups are often overlooked, but you can be part of a highly valuable community, within the already valuable networking platform.
The nice thing about LinkedIn groups is that they are usually better curated than groups on other platforms. You will also need to apply oftentimes to become a member of these Entrepreneur LinkedIn Groups. This is a good thing. Once accepted, you know you'll be engaging with like-minded people.
Bonus Content:
First this: Grow faster than ever before!
Seamlessly blend creativity and technology. See how you can start with AI Marketing and reach your goals faster than ever before. Check out the Tips, Strategies, AI Tools, Masterclass, Courses, and Community. Unleash the true potential of your brand with the help of AI.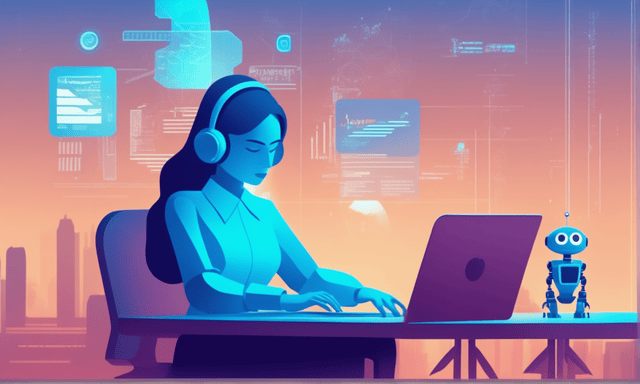 In this article:
Best LinkedIn Groups every Entrepreneur should Join
1 Growth Storytelling – Effective Content Marketing, Storytelling and Writing Strategies
Become more effective. Improve your Content Marketing, Storytelling, and Writing with StoryLab.ai's Growth Storytelling Framework.
Strategies, tactics, tools, and tips to help you reach your goals faster. Ask the community any questions and get help.
We're just getting started, but we're here to help you on your path. Get the Growth Storytelling Framework here.
Check out our website and tools at StoryLab.ai
Check out the new LinkedIn Group here.
2. Executive Suite
The purpose of the Executive Suite Group is executive-level peer connections and trusted advice to help you create the transformative results you want in your career, work, and wellbeing.
As a Suite member, you're cordially invited to attend free sessions of the acclaimed online executive learning series, ExecuNet Master Class.  The weekly sessions are led by A-list CEOs, top B-school professors, leadership pioneers, wellness experts and acclaimed executive career strategists and recruiters. To get on the list, follow the link above or connect on LinkedIn with the Group Owner, Anthony Vlahos.
You can access this group after requesting to join and you will be part of a 372,000+ community.
3. A Startup Specialists Group
With more than 505,000 members, this Startup Specialists Group, offers a community of startups, mentors, founders and investors and is a great resource for entrepreneurs. Here you'll find support, tips for building your business, crowd funding, best business practices, networking and so much more.
4. Chief Marketing Officer (CMO) Network
This group of 300,000+ members is not just great if you're a Marketer + Entrepreneur. Also if you're not a marketer, chances are you're doing some marketing if you are running a Startup. Getting some quality advice from CMOs is never a bad idea.
Check out the CMO LinkedIn Group here and decide for yourself if it's worth joining.
5. Band of Entrepreneurs
This "non-profit organization of, by, and for entrepreneurs" group has close to 27,000 members and provides support on topics like legal help, human resources, public relations, technology and more.
It is formed owing to the collective conscience of its founder entrepreneurs to facilitate and accelerate the development of the entrepreneurial /startup ecosystem.
This group is a lot smaller with just a bit over 31,000 members, but the people interacting in the group are great! Check this group out for yourself.
6. Bright Ideas & Entrepreneurs
Bright Ideas & Entrepreneurs offers a networking community for all types of Entrepreneurs, Small Business Owners, Startups, Angel Investors, VCs and other like-minded individuals to join, share ideas, and connect!
7. Entrepreneurs Meet Investors
Whether you're looking for funding to start a business or grow your existing company, this group could help. It has a network of more than 6,000 entrepreneurs and investors.
This group is for innovative entrepreneurs seeking seed/start up funding and more mature businesses seeking capital for business growth. Accredited investor, venture capital and hedge funds (principals only) who are seeking projects to fund. Please note that this group – specifically – does not deal in film projects, real estate transactions, mining efforts or oil and gas deals.
Are you looking for such connections and information? Check out this great group.
8. Future Trends
This group describes itself as a place to "connect with fellow trend hunters, corporate visionaries and future thinkers" in industries such as marketing, product development, brand management and more. The group has more than 662,000 engaged members that are ready to comment and share insights. Check it out if you want to become part of this community.
How to find LinkedIn groups that fit your needs best
Like always on Social Media, you'll get the best out of your efforts if you engage with people and groups. It doesn't make sense to joining 100 LinkedIn Groups. So how do you find the groups that fit your needs best?
1. Search online to find the best groups
You can almost skip this step because you probably already searched online and found this article. Great going! Check to see which groups in your niche are being recommended by others.
2. Join your first 10 LinkedIn groups
From the groups that are being recommended by others, join about 10 groups and see how you feel about being part of those communities. Don't be afraid to leave a group if you find it too spammy or the insights that are being shared are not what you're looking for.
Additionally to the groups that are being recommended, search for groups yourself on LinkedIn.
Simply:
a) search for the term that fits your needs best;
b) click 'groups'.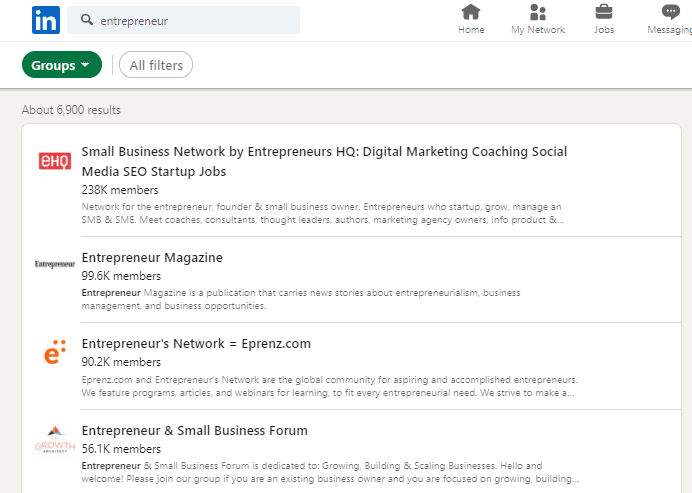 Good luck with your entrepreneurial journey! We hope that you'll enjoy the ups but also the downs.
Don't be a stranger, drop us a line in the comment section below.
You might also like:
Join our Digital Marketing Community & Courses and Achieve your Goals
We all have blind spots. A community, advisors, and step-by-step courses can help you see what you're missing and grow faster than ever before.