Creative Church Fundraising Ideas [+ AI Fundraising Idea Generator]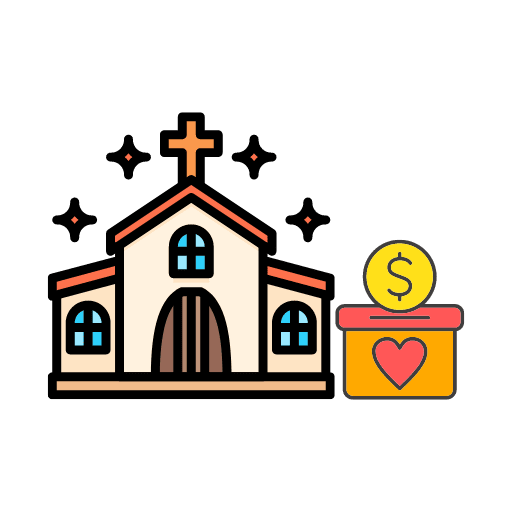 Are you looking for Unique and Creative Fundraising Ideas for your Church? That's great. Fundraising is exciting.
Let's help you set up a plan by sparking your creativity with a lineup of creative Fundraising ideas you can start today.
First this: Grow faster than ever before!
Seamlessly blend creativity and technology. See how you can start with AI Marketing and reach your goals faster than ever before. Check out the Tips, Strategies, AI Tools, Masterclass, Courses, and Community. Unleash the true potential of your brand with the help of AI.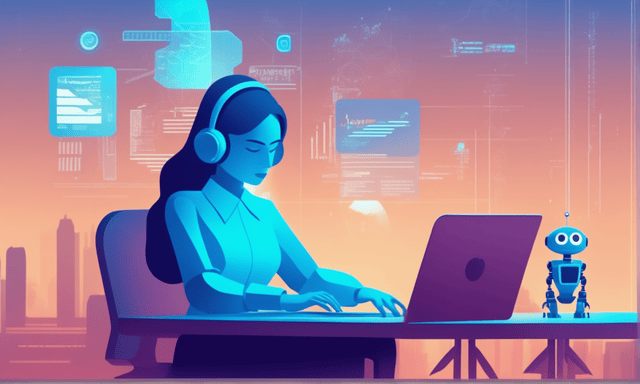 In this article
Using an AI Church Fundraising Idea Generator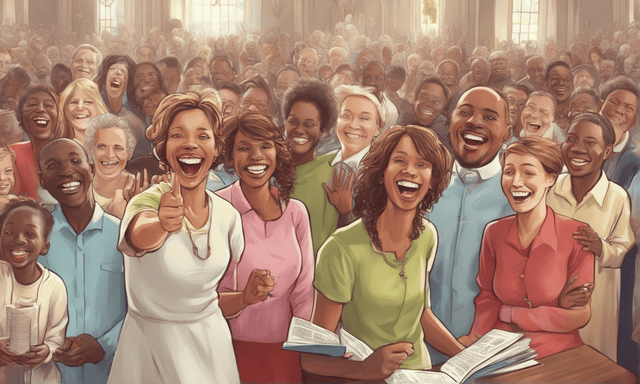 For coming up with the Church Fundraising Ideas for this article, we've used ChatGPT, and we'll show how to use it to fine-tune ideas and make them more detailed for your Fundraiser. Also, check out ChatGPT Alternatives to help with your Marketing Copy, etc.
How to use ChatGPT to come up with Fundraising Ideas for your Church
When logging into ChatGPT, you need to give it a prompt (question) so it can do its AI Magic and give you a detailed answer. Our prompt was:
Can I please get 10 detailed fundraising ideas for Churches. Elaborate a bit on how to make the idea a success. 
Here's what it looks like: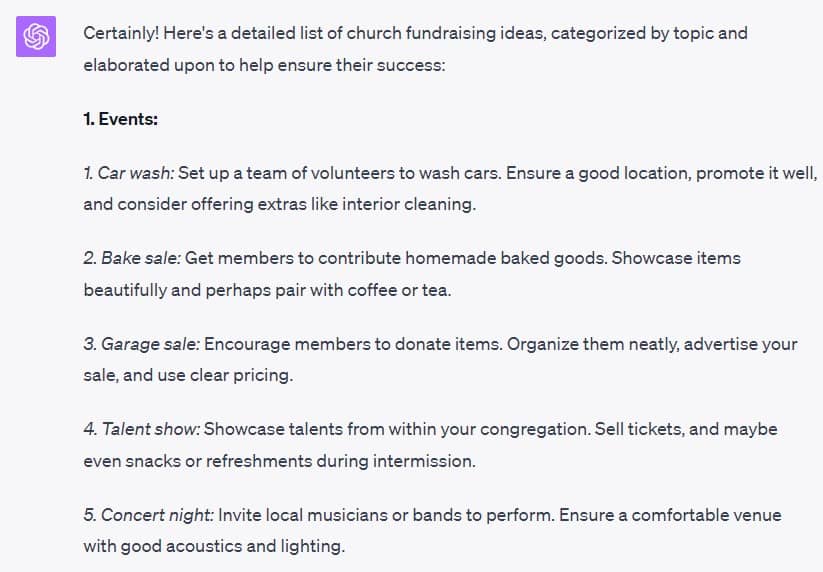 We asked ChatGPT this question a couple of times and hand-picked the best Church fundraising ideas for this list.
You can go ahead and better define your questions. For instance with modifications like; for a small group of people, low-cost ideas, holidays, virtual ideas, etc.
Cool and Creative Church Fundraising Ideas
Here are some cool hand-picked Church Fundraise Ideas the AI Idea Generator Came up with:
Event Church Fundraising Ideas:
Car wash: Set up a team of volunteers to wash cars. Ensure a good location, promote it well, and consider offering extras like interior cleaning.
Bake sale: Get members to contribute homemade baked goods. Showcase items beautifully and perhaps pair with coffee or tea.
Garage sale: Encourage members to donate items. Organize them neatly, advertise your sale, and use clear pricing.
Talent show: Showcase talents from within your congregation. Sell tickets, and maybe even snacks or refreshments during intermission.
Concert night: Invite local musicians or bands to perform. Ensure a comfortable venue with good acoustics and lighting.
Spaghetti dinner: Use a church hall to serve dinner. To maximize profits, get ingredients donated.
Pancake breakfast: Host an early morning breakfast. Consider themed pancakes or toppings.
Silent auction: Ask for item donations from local businesses and conduct an auction.
Trivia night: Charge teams to enter and offer a prize for the winner. Include snack sales.
Church Sales Fundraising ideas:
T-shirt sales: Design a church-specific T-shirt. Consider quality and comfort.
Cookbooks: Collect recipes from members. Print and bind them, and promote the book's local flavor.
Candle sales: Partner with a candle company or make your own with unique scents.
Church calendar: Feature church events, members' birthdays, or local photography.
Digital Online Church Fundraising ideas:
Online donation platform: Simplify the donation process by having an easy-to-use platform.
Crowdfunding: Share a specific goal or project and encourage members to promote it.
Virtual concert: Host an online concert. Ensure good sound quality and promote well.
Webinars: Host topical webinars, charging a small fee for participation.
Sponsorships and Donation ideas for Churches:
Corporate sponsorships: Seek partnerships with local businesses in exchange for promotion.
Pledge drives: Set a goal, and encourage members to pledge towards it, showcasing progress.
Activity-based Church fundraising ideas:
Walk-a-thons: Plan a route, encourage sign-ups, and seek pledges based on miles walked.
Dance-a-thons: Rent a hall, hire a DJ, and have participants seek pledges for hours danced.
Food and Drink fundraising ideas for Churches:
Lemonade stand: Offer refreshing lemonade on a hot day, and consider a twist, like adding fresh fruit.
Ice cream social: Offer a variety of flavors and toppings. Charge per scoop or bowl.
Pie sales: Have a pie-baking day and sell various pies. Consider seasonal favorites.
Kids and Families fundraising ideas for Churches:
Vacation Bible School fundraiser: Charge a fee, and ensure fun, engaging activities.
Children's artwork sale: Display children's art and auction it.
Babysitting for date nights: Offer babysitting services for parents wanting a night out.
Special Days fundraising ideas for Churches:
Mother's Day flower sales: Partner with a local florist and offer bouquets for moms.
Valentine's Day dinners: Organize a romantic dinner at the church, with music and candlelight.
Services ideas to fundraise for Churches:
Lawn care: Offer mowing, raking, and other lawn services for a fee.
Handyman services: Compile a list of handymen in your congregation willing to help for donations.
Creative Arts fundraising ideas for Churches:
Art show and sale: Host an evening where local artists can display and sell their art, with a portion going to the church.
Choir performances: Organize performances at local events or businesses.
Challenge and Adventure fundraising ideas for Churches:
Adventure races: Organize a race with various challenges. Participants can get sponsors.
Themed Nights fundraising ideas for Churches:
80's night: Charge an entry fee, play 80's music, and encourage 80's outfits.
Karaoke night: Rent equipment and charge participants. Offer prizes for top performers.
Rental fundraising ideas for Churches:
Rent church space: Offer church spaces for events or meetings during off-hours.
Sports fundraising ideas for Churches:
Charity football match: Organize a game with another church or community group, charging for entry.
Workshops and Seminar fundraising ideas for Churches:
DIY sessions: Offer classes on crafts, home repair, etc., taught by skilled congregation members.
Tours and Travel fundraising ideas for Churches:
Church history tours: Showcase the history of your church or denomination, charging for guided tours.
Miscellaneous:
Mystery dinner theater: Organize a dinner with a mystery theme, with attendees trying to solve a case.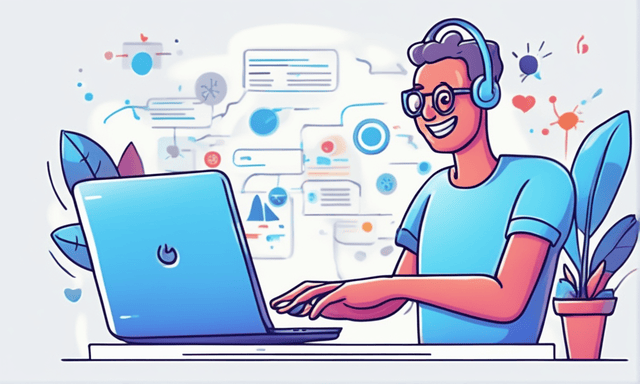 Promote your Church Fundraiser on Social Media
Coming up with a creative Church Fundraiser and getting people excited to help you make the dream a reality is one thing.
You will also need to make sure people participate in your Fundraiser so you can reach your Fundraiser Goal.
Social Media Marketing is great for reaching an audience for free. Here's how you can use the best Social Media Caption Generators to come up with great copy for your social posts so you can get the views, likes, and engagement you need.
How to use an AI Social Media Caption Generator
AI Social Media Caption Generators have come a long way and they are great at helping you write great social media posts. Feel free to be as detailed as you want and don't forget to always add a 'call to action' to your post. A call to action can be something like; sign up, join us, share with friends, etc.
We've used StoryLab.ai's Social Media Caption Generator to show you how easy it is to write great social media post copy. We basically took one of the ideas ChatGPT helped us come up with and added that it's a church fundraiser + date into the AI Tool (we chose Instagram as the social platform). Here's what it looks like. This was our exact prompt:
Join our Vacation Bible School Fundraiser on April 2
Here's what the AI Instagram Caption Generator came up with: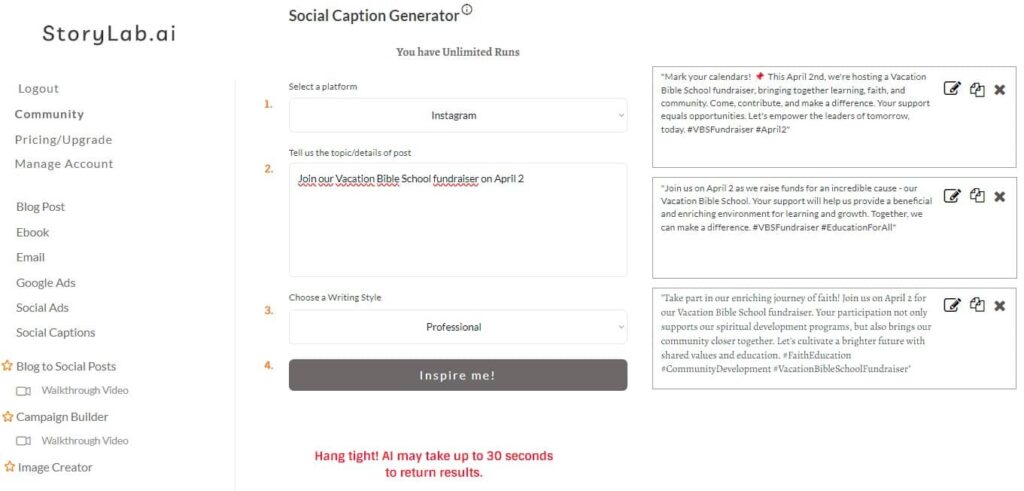 AI Social Media Caption Generator output examples
Mark your calendars! 📌 This April 2nd, we're hosting a Vacation Bible School fundraiser, bringing together learning, faith, and community. Come, contribute, and make a difference. Your support equals opportunities. Let's empower the leaders of tomorrow, today. #VBSFundraiser #April2
Join us on April 2 as we raise funds for an incredible cause – our Vacation Bible School. Your support will help us provide a beneficial and enriching environment for learning and growth. Together, we can make a difference. #VBSFundraiser #EducationForAll
Take part in our enriching journey of faith! Join us on April 2 for our Vacation Bible School fundraiser. Your participation not only supports our spiritual development programs, but also brings our community closer together. Let's cultivate a brighter future with shared values and education. #FaithEducation #CommunityDevelopment #VacationBibleSchoolFundraiser
We then used the same prompt but changed to writing style to; Comedic and the AI Tool came up with the following:
Save the date, folks! April 2nd. We're having a Vacation Bible School fundraiser and it's gonna be as lit as the burning bush! 🌳🔥 Book your sin-free spot right now! 😉🙏 #HolyFundraiser
Whip out your calendars and put on your fun goggles! April 2nd is when we transform into fundraising warriors for our Vacation Bible School! Come for the cause, stay for the divine fun! 😇💫 #HolyMolyFundraiser
April 2nd? More like "Ahh-pril 2nd" because that's the sound you'll make when you realize you've missed our Vacation Bible School fundraiser! We've got faith, fun, and dare we say…some heavenly snacks involved. Save the date and bring your holy spirit…and maybe your unholy sense of humor! 😇🙌🍪
You can use the inspirational pieces the AI Caption Maker came up with, add your unique human touch, and publish your posts on Social. you don't need to be a professional copywriter or social media expert to make your Church fundraiser a big success!
Join our Digital Marketing Community & Courses and Achieve your Goals
We all have blind spots. A community, advisors, and step-by-step courses can help you see what you're missing and grow faster than ever before.