Creative Sports Team Fundraising Ideas [+ AI Fundraising Idea Generator]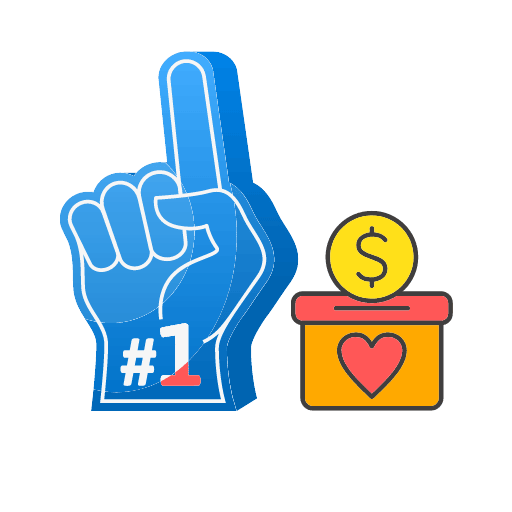 Are you looking for Creative Fundraising Ideas for your Sports Team? Great! Fundraising is exciting.
Let's help you set up a plan by sparking your creativity with a lineup of cool Fundraising ideas.
First this: Grow faster than ever before!
Seamlessly blend creativity and technology. See how you can start with AI Marketing and reach your goals faster than ever before. Check out the Tips, Strategies, AI Tools, Masterclass, Courses, and Community. Unleash the true potential of your brand with the help of AI.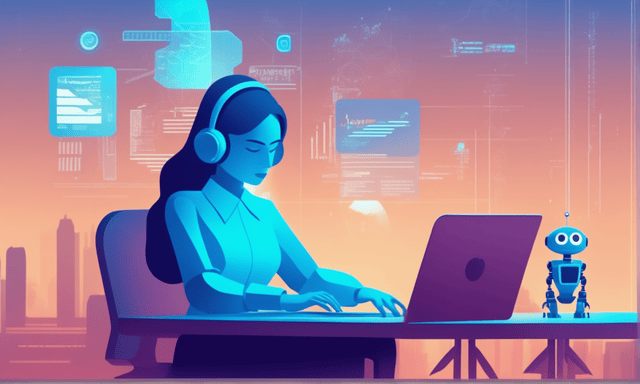 In this article
Using an AI Sports Team Fundraising Idea Generator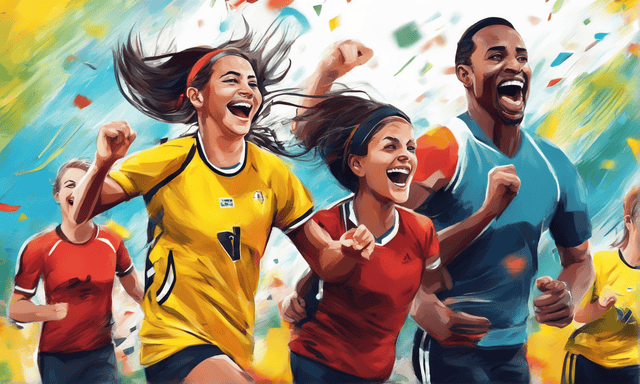 For coming up with the Sports Team Fundraising Ideas for this article, we've used ChatGPT, and we'll show how to use it to fine-tune ideas and make them more detailed for your Fundraiser. Also, check out ChatGPT Alternatives to help with your Marketing Copy, etc.
How to use ChatGPT to come up with Fundraising Ideas for your Sports Team
When logging into ChatGPT, you need to give it a prompt (question) so it can do its AI Magic and give you a detailed answer. Our prompt was:
Can I please get 10 detailed fundraising ideas for sports teams. Elaborate a bit on how to make the idea a success. 
Here's what it looks like: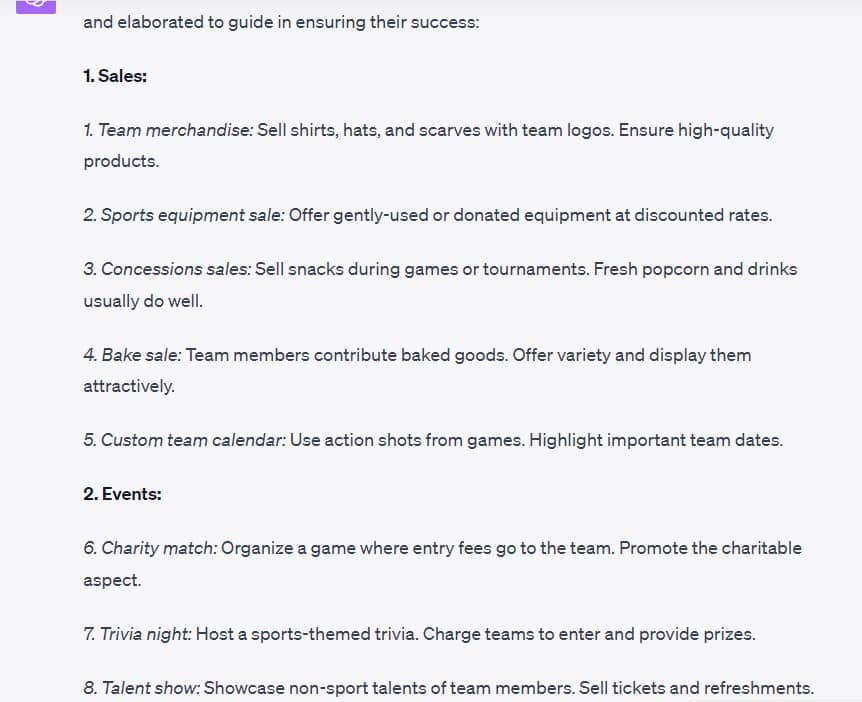 We asked ChatGPT this question a couple of times and hand-picked the best sports team fundraising ideas for this list.
You can go ahead and better define your questions. For instance with modifications like; for a small group of people, for baseball, low-cost ideas, holidays, virtual ideas, etc.
Cool and Creative Sports Team Fundraising Ideas
Here are some cool hand-picked Sports Team Fundraise Ideas the AI Idea Generator Came up with:
Sports Team Sales Fundraising Ideas:
Team merchandise: Sell shirts, hats, and scarves with team logos. Ensure high-quality products.
Sports equipment sale: Offer gently-used or donated equipment at discounted rates.
Concessions sales: Sell snacks during games or tournaments. Fresh popcorn and drinks usually do well.
Bake sale: Team members contribute baked goods. Offer variety and display them attractively.
Custom team calendar: Use action shots from games. Highlight important team dates.
Event Sports Team Fundraising Ideas:
Charity match: Organize a game where entry fees go to the team. Promote the charitable aspect.
Trivia night: Host a sports-themed trivia. Charge teams to enter and provide prizes.
Talent show: Showcase non-sport talents of team members. Sell tickets and refreshments.
Car wash: Players wash cars. Ensure a good location, promote it, and maybe offer detailing services.
Sports clinic: Team members teach basics to kids. Charge an entry fee.
Digital/Online Sports Team Fundraising Ideas:
Crowdfunding campaign: Share specific goals and encourage supporters to donate.
Virtual tournament: eSports teams could hold online tournaments with an entry fee.
Online auction: Auction off donated items, services, or signed team memorabilia.
Team YouTube channel: Create content, monetize the channel, and accept sponsorships.
Digital sports course: Create courses for aspiring athletes, and charge a fee.
Sponsorships and Donation Sports Team Fundraising Ideas:
Local business sponsorships: Businesses support in exchange for advertisement during games.
Personalized bricks or seats: Donors buy a brick or seat with their name for stadium/field enhancement.
Donation match drive: Find a sponsor to match all donations made during a period.
Equipment drive: Request specific items or monetary contributions for gear.
Pledge drives: Supporters pledge money for every goal scored or game won.
Food and Drink Sports Team Fundraising Ideas:
Pancake breakfast: Organize a team breakfast, and sell tickets.
BBQ fundraiser: Sell tickets in advance. Offer various meat options and sides.
Team cookbook: Players contribute favorite recipes. Print and sell the book.
Themed dinner night: Organize a cultural dinner. Charge per plate and provide entertainment.
Wine tasting: Partner with a local vineyard. Charge a fee and perhaps auction rare bottles.
Challenge and Adventure Sports Team Fundraising Ideas:
Mud run: Organize a muddy obstacle course. Participants get sponsors.
Hike-a-thon: Organize a mountain hike. Participants get sponsored per mile.
Fitness challenges: Charge an entry fee for participants to test endurance or strength.
Scavenger hunt: Teams pay an entry fee. Provide clues leading to sports-themed checkpoints.
Skydiving challenge: Participants are sponsored to skydive. Pair with a professional company.
Rentals Sports Team Fundraising Ideas:
Equipment rental: Rent out team equipment during off-season.
Facility rentals: Rent out team facilities for events or other sports.
Host a camp: Use facilities during off-season to host sports camps for kids.
Parking space rental: During major events in the vicinity, rent out parking spaces.
Locker rentals: If facilities allow, offer locker rentals.
Themed Nights Sports Team Fundraising Ideas:
80's night: Charge an entry fee, play 80's music, and encourage 80's outfits during a game.
Movie night: Play a sports-themed movie in the stadium. Sell tickets and concessions.
Ladies' night: Offer special promotions and entry discounts for women.
Fan appreciation night: Offer discounts, freebies, and recognize loyal supporters.
Jersey evening: Fans wear old jerseys. Offer prizes for the oldest or most unique.
Workshops and Seminars Sports Team Fundraising Ideas:
Nutrition workshop: Offer a session on sports nutrition. Partner with nutritionists.
First aid course: Offer first aid courses tailored for sports injuries.
Coaching seminar: Senior players or coaches offer insight into strategies.
Referee/Umpire training: Organize a training session and charge a fee.
Fitness boot camp: Organize intensive fitness sessions. Charge participants.
Travel Sports Team Fundraising Ideas:
Away game travel package: Organize transportation and accommodation for important away games.
Team vacation lottery: Supporters buy tickets for a chance to win a trip with the team.
Adventure trips: Organize rafting, trekking, etc., trips for supporters.
Team cruise: Organize a short cruise with team members. Fans buy tickets.
Cultural exchange: Partner with an international team. Supporters pay to travel and experience a different culture.
Partnerships Sports Team Fundraising Ideas:
Gym partnerships: Gyms offer discounts to team supporters, and a portion goes to the team.
Restaurant nights: Partner with a restaurant that gives back a percentage on a particular night.
Collaboration with local artists: Artists create team-themed art. Sales split between the team and artist.
Joint events with other teams: Organize tournaments or events with other sports teams.
Affiliate marketing: Promote products and earn a commission on sales.
Games and Tournaments Sports Team Fundraising Ideas:
3-on-3 basketball: Host mini tournaments. Teams pay an entry fee.
Fantasy leagues: Organize a league with entry fees and prizes.
Dodgeball tournament: Teams pay to enter. Offer prizes and concessions.
Poker night: Organize a poker event. Ensure adherence to local gambling laws.
Board game tournament: Charge an entry fee. Offer sports-themed board games.
Services Sports Team Fundraising Ideas:
Athletic training: Offer personal athletic training sessions for a fee.
Team yard work service: Players offer yard services. All proceeds go to the team.
Car detailing: Offer thorough car cleaning services.
Personal shopper for a day: Players help supporters shop, carry items, etc., for donations.
Equipment repair: Offer repair services for common sports equipment.
Auctions Sports Team Fundraising Ideas:
Silent auction: Offer donated items, services, or team experiences.
Live auction: Host a gala event. Offer unique items like a day with a player.
Online auction: Use platforms like eBay to auction items.
Autographed item auction: Players sign gear, auctioned to the highest bidder.
Date-a-player auction: Organized in a fun, respectful manner, fans bid for a lunch date with players.
Miscellaneous Sports Team Fundraising Ideas:
Raffles: Sell raffle tickets. Ensure attractive prizes.
Penalty shootouts: Fans pay to try and score against a pro goalie.
Team-branded credit card: Partner with a bank. Earn a percentage of transactions.
Mascot appearance: Charge for mascot appearances at events or parties.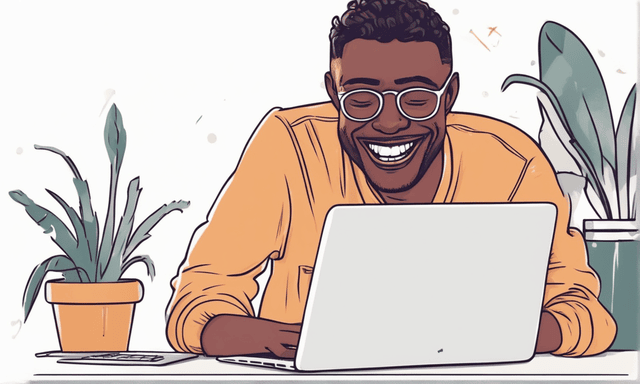 Promote your Sports Team Fundraiser on Social Media
Coming up with a creative Sports Team Fundraiser and getting people excited to help you make the dream a reality is one thing.
You will also need to make sure people participate in your Fundraiser so you can reach your Fundraiser Goal.
Social Media Marketing is great for reaching an audience for free. Here's how you can use the best Social Media Caption Generators to come up with great copy for your social posts so you can get the views, likes, and engagement you need.
How to use an AI Social Media Caption Generator
AI Social Media Caption Generators have come a long way and they are great at helping you write great social media posts. Feel free to be as detailed as you want and don't forget to always add a 'call to action' to your post. A call to action can be something like; sign up, join us, share with friends, etc.
We've used StoryLab.ai's Social Media Caption Generator to show you how easy it is to write great social media post copy. We basically took one of the ideas ChatGPT helped us come up with and added that it's a sports team fundraiser + date into the AI Tool (we chose Instagram as the social platform). Here's what it looks like. This was our exact prompt:
join our Mud run sports team fundraiser on April 2
Here's what the AI Instagram Caption Generator came up with: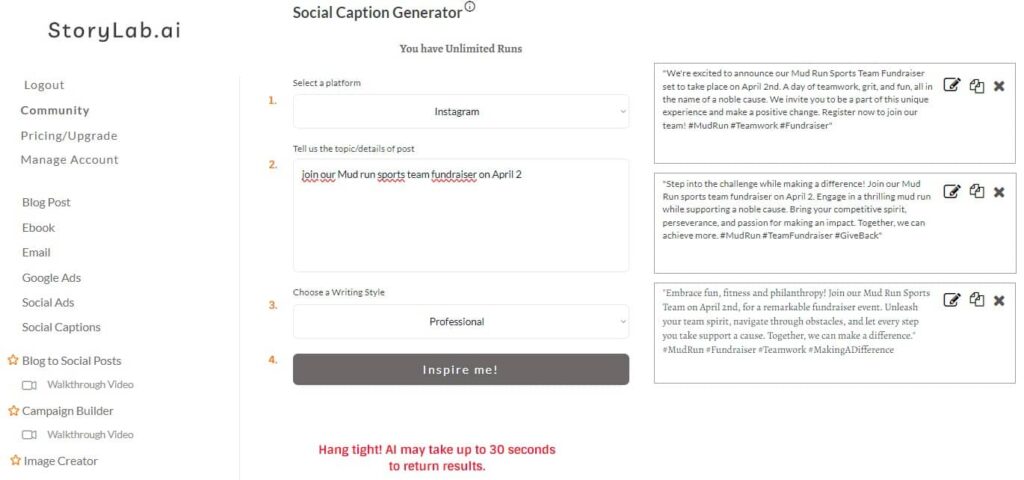 AI Social Media Caption Generator output examples
We're excited to announce our Mud Run Sports Team Fundraiser set to take place on April 2nd. A day of teamwork, grit, and fun, all in the name of a noble cause. We invite you to be a part of this unique experience and make a positive change. Register now to join our team! #MudRun #Teamwork #Fundraiser
Step into the challenge while making a difference! Join our Mud Run sports team fundraiser on April 2. Engage in a thrilling mud run while supporting a noble cause. Bring your competitive spirit, perseverance, and passion for making an impact. Together, we can achieve more. #MudRun #TeamFundraiser #GiveBack
Embrace fun, fitness and philanthropy! Join our Mud Run Sports Team on April 2nd, for a remarkable fundraiser event. Unleash your team spirit, navigate through obstacles, and let every step you take support a cause. Together, we can make a difference.
#MudRun #Fundraiser #Teamwork #MakingADifference
We then used the same prompt but changed to writing style to; Comedic and the AI Tool came up with the following:
Ready to get dirty for a good cause? Join us on April 2! It's a mud run, so don't bother with your Sunday best. Laundry detergent not included! 🏃‍♀️🏃‍♂️🤣 #MudRun #GetDirtyForCharity
Because who doesn't love combining fitness, fun, and laundry challenges?! 🏃🤪👕 Join us on April 2nd for our Mud Run Fundraiser! Show your friends how much you "dig" them by sharing a muddy high-five at the finish line. Let's get dirty for a good cause! 💪🌍 #MudRun #FitnessFun
Swap the couch potato life for the glory of epic mud baths! Join our Mud Run Sports Team, where we believe dirt is the new black! Get mucky for a cause on April 2nd. And remember, showers are optional but laughter is mandatory! #MudRunFun #DoItForTheLaughs
Join our Digital Marketing Community & Courses and Achieve your Goals
We all have blind spots. A community, advisors, and step-by-step courses can help you see what you're missing and grow faster than ever before.