Catchy Food Blog Post Title Examples [+ Free AI Tools]
Create Catchy Blog Post Titles for your Food Blog or Website with our examples and these Free AI Blog Title Generators.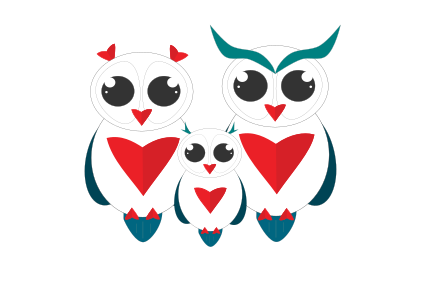 Grow your Food Blog's website traffic by creating better, catchy, and more engaging blog post titles.
Check out our tips and AI Tools and start improving today.
Don't settle for the first blog headline you came up with. Create a shortlist in seconds with one of the AI Blog Title Generators we provided in this article and select the best one. See your Foodie Blog Traffic Grow!
First this: Grow faster than ever before!
Seamlessly blend creativity and technology. See how you can start with AI Marketing and reach your goals faster than ever before. Check out the Tips, Strategies, AI Tools, Masterclass, Courses, and Community. Unleash the true potential of your brand with the help of AI.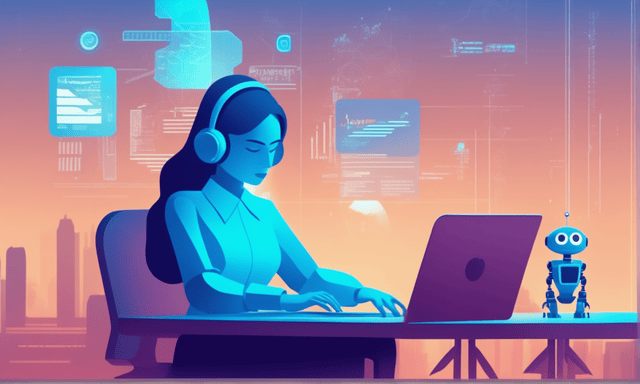 In this article
Why should Food Blogs Write Great Blog Post Titles?
Food Blogs should prioritize writing great blog titles for several compelling reasons:
Attention and Clicks: In a digital world filled with content, a captivating title is your first chance to grab a reader's attention. A well-crafted title intrigues and excites readers, encouraging them to click and explore the full content. An engaging title can significantly increase the click-through rate of your blog posts.
Search Engine Optimization (SEO): Crafting SEO-friendly titles with relevant keywords can enhance your blog's visibility on search engines. Search engines display your blog post titles in search results, and an optimized title increases the likelihood of your content being discovered by users searching for related topics. This, in turn, can lead to higher organic traffic to your blog.
Expectation Setting and Engagement: A clear and descriptive title sets expectations for your readers regarding the content they are about to read. When the content meets or exceeds these expectations, readers are more likely to engage further, spend more time on your blog, and even share the content with others. Consistently delivering on your title's promise builds trust and credibility with your audience.
By focusing on creating compelling and relevant titles, food blogs can effectively attract readers, optimize their content for search engines, and foster deeper engagement with their audience.
AI Tool for Food Blogs to Write Great Blog Post Titles
In order to come up with the best headline for your next Foodie article, you'll need to create a list of potential titles and then select the best one. To help speed up that process and to improve creativity, check out how an AI-Powered Blog Title Generator can help.
You simply enter what your blog post is about, choose a writing style, and click the 'Inspire me!' button. Here's what that looks like:
For this example we've used the input:
'Delicious and Healthy Meals'

Benefits of the AI-Powered Blog Title Generator
At a glance, here's what the Blog Title Generator can do for you.
| | |
| --- | --- |
| 🤖AI modes |  13 writing styles |
| Improves |  blog content, creativity, and more |
| 🦾Supports |  17+ Languages |
|  Price |  Free and Premium |
AI Blog Title Generator by Semrush (ContentShake)
Semrush is a Keyword research tool and they´ve created ContentShake to go from insights (keyword research) to content ideas and to full-written articles in minutes. ContentShake comes with a free trial so you can see if you like this AI Blog Title Generator better than other AI tools and select the one that fits your content creation processes best. Be sure to try it out and see if you love it.
Here's what their AI Blog Title Generator insights look like. They give you 3 suggestions for your article and show the titles your competitors are using for that given keyword.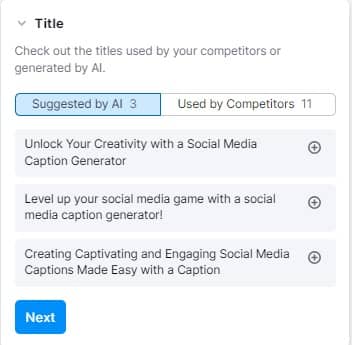 Add the right keywords in your Title and optimize for SEO
Next to creating a catchy blog post title, you also want to include the right keyword and optimize it for SEO. Preferably, you should add your main keyword at the start of your H1 and Meta Title. For this article, we've added our main keyword 'Food Blog Post Title Exampels" at the start.
Don't guess which keywords to use. Use tools like SEMRush to find what people are actually searching for. Simply enter your topic, get a ton of data, and select the best keyword based on volume and difficulty. Try it for free and get the data you need.
Here's what it looks like: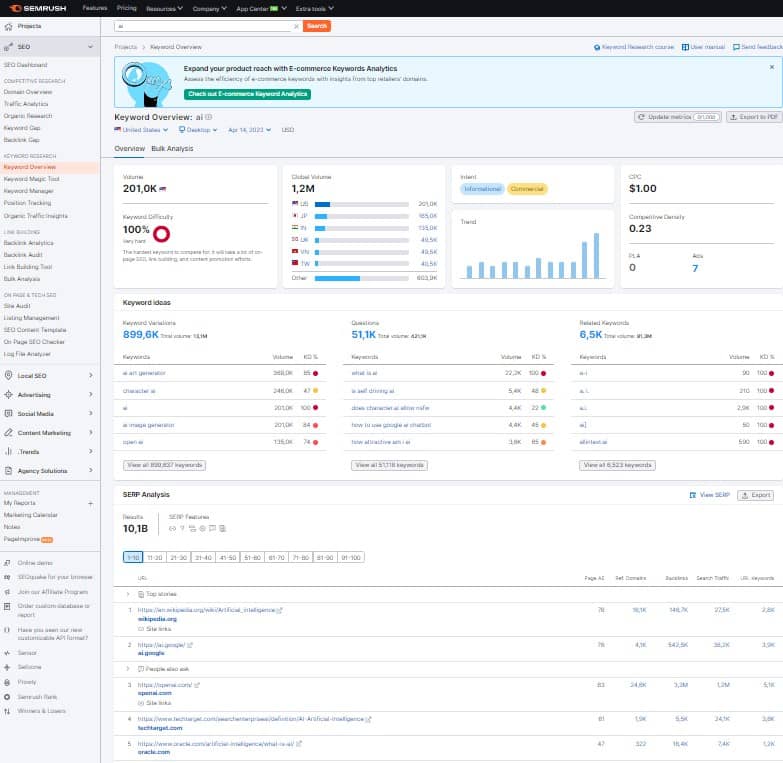 Catchy Food Blog Post Title Examples
Savoring the Seasons: Spring Delights on the Plate
The Ultimate Guide to Perfecting Classic Dishes
Gourmet Globetrotting: Exploring Flavors Around the World
Bite-Sized Bliss: Irresistible Appetizers for Every Occasion
Wholesome Comfort: Hearty Recipes for Cozy Nights
From Farm to Fork: Embracing the Beauty of Local Ingredients
Indulgent Desserts Made Simply Spectacular
Weeknight Wonders: Quick and Delicious Dinner Fixes
Plant-Based Palate: Elevating Veggie Delights
Flavor Fusion: The Art of Mixing Culinary Cultures
Breakfast Brilliance: Starting Your Day with Culinary Charm
Sweets and Treats: Heavenly Desserts to Satisfy Your Cravings
Feast for the Eyes: Crafting Instagram-Worthy Plates
Epicurean Escapes: A Culinary Journey through Exotic Cuisines
Mastering Baking: Elevating Your Pastry Game
Dining Al Fresco: Perfect Picnic Recipes for Sunny Days
Tantalizing Tastes: Bold Spices and Unique Flavors
Kitchen Chronicles: Unveiling the Secrets of Chef-Worthy Dishes
Sippable Sensations: Crafting Creative Cocktails at Home
Sustainable Eats: Eco-Friendly Recipes for a Greener Plate
Cooking with Love: Infusing Family Recipes with Heart
From Scratch: The Art and Joy of Homemade Cuisine
Sumptuous Seafood: Diving into Ocean-Inspired Dishes
Delightful Decadence: Lavish Desserts for Special Moments
Vibrant Veggies: Celebrating the Rainbow on Your Plate
Rise and Shine: Revitalizing Breakfast Bowls to Start Your Day
Flavor Revolution: Reinventing Classic Recipes with a Twist
Simple Suppers: One-Pot Wonders for Busy Nights
Sweet Serendipity: Discovering Dessert Perfection
Taste of Tradition: Honoring Heritage in Every Bite
Plating Perfection: The Art of Presenting Your Culinary Creations
Soulful Comfort: Nostalgic Recipes for a Feel-Good Feast
Elevating Elegance: Fine Dining at Home
Culinary Chemistry: Experimenting with Unexpected Flavors
Bread and Beyond: Satisfying Your Carb Cravings
Aromas and Adventures: A Foodie's Journey through Global Kitchens
Sweet Escapes: Dessert Destinations You Can Create at Home
The Flavor Files: Diving Deep into Seasoning Secrets
A Slice of Joy: Crafting Perfect Pizza from Scratch
Vegetarian Ventures: Flavorful Meatless Creations
Savory Traditions: A Homage to Heirloom Family Recipes
Guilt-Free Gratification: Healthier Twists on Indulgent Favorites
Spice Odyssey: Exploring the World of Exotic Seasonings
Sip and Savor: Wholesome Beverages to Enhance Your Day
Rustic Elegance: Celebrating Simplicity in Culinary Art
Flavors of Nostalgia: Recreating Childhood Favorites
Bold Bites: Amping Up Flavors with Spicy Sensations
Culinary Canvas: Creating Edible Masterpieces
Asian Inspirations: Capturing the Essence of Oriental Flavors
Sweeter Together: Sharing Dessert Moments with Loved Ones
Sustainability on the Plate: Farm-to-Table Delights
From Street to Table: Authentic Street Food Experiences
Fusion Fiesta: Where Diverse Cuisines Unite
Warm and Cozy: Soups and Stews for Chilly Evenings
Ingredient Spotlight: Exploring the Versatility of a Star Ingredient
Brunch Bliss: Elevating Your Mid-Morning Meals
Flour Power: Baking Magic with Creative Flour Varieties
Bite into Bliss: Capturing Joy in Every Culinary Creation
Sweet Serenity: Crafting Relaxing Teatime Treats
Healthy Hedonism: Guilt-Free Pleasures on Your Plate
Fireside Feasts: Roasting and Grilling Adventures
Dessert Dreams: Creating Fantastical Sweet Confections
Harvest Harmony: Fall Flavors that Warm the Heart
Global Grub: Savoring the Richness of International Cuisine
Dining by Design: Artful Presentation Techniques
Rise to Shine: Energizing Breakfast Recipes
Culinary Chronicles: Tales of Food and Tradition
Baking Bliss: Elevating Your Homemade Bread Game
Garden to Table: Exploring Freshness in Every Dish
asta Passion: Crafting Comfort from Scratch
Flavor Fiesta: Discovering the Magic of Latin Cuisine
Dessert Diaries: Sweet Tales of Confectionery Artistry
Umami Unveiled: Elevating Savory Delights with Depth
Feast for the Senses: Creating Food Experiences Beyond Taste
Wok Wonders: Stir-Fry Creations to Excite Your Palate
Baking Adventures: Embarking on Whimsical Cake Journeys
Culinary Classics: Reviving Time-Honored Recipes
Garden Gastronomy: Harvesting and Cooking from Your Plot
Mastering Marinades: Infusing Flavors with Every Soak
Feeding the Soul: The Comfort of Homestyle Cooking
Cuisine Chronicles: Journeying through Culinary History
Elegant Entrees: Crafting Dining Elegance at Home
Healing Through Food: Nourishing Recipes for Wellness
Flavorful Encounters: Exploring Culinary Crossroads
Taste of Tradition: From Grandma's Kitchen to Yours
Vegan Variations: Elevating Plant-Based Delights
Artisan Eats: Crafting Specialty Foods with Love
Beyond the Cookbook: Putting Your Spin on Recipes
Ethical Eating: Mindful Food Choices for a Better World
Spice Infusions: Elevating Dishes with Homemade Blends
Cooking with Intuition: Embracing Creativity in the Kitchen
Seasonal Spectacle: Creating Delights Inspired by Nature
Sensational Seafood: From Ocean to Table Bliss
Food and Feelings: Exploring the Emotional Connection
Dining Delights: Elevating Everyday Meals
Global Grains: A World Tour of Wholesome Staples
Soulful Suppers: Dishes That Warm and Comfort
Fresh and Fast: Quick Recipes Bursting with Flavor
Harvest Homecoming: Embracing the Bounty of Fall
Saucy Secrets: Crafting Signature Condiments
The Flavors of Friendship: Sharing Culinary Adventures
Baking Alchemy: Turning Ingredients into Edible Magic
Wine and Dine: Pairing Culinary Elegance with Fine Wines
Culinary Creativity: Beyond the Recipe Card
Edible Artistry: Turning Plates into Palettes
Cooking for Connection: Building Bonds Through Meals
Grain Revolution: Elevating Ancient Grains to Stardom
Veggie Ventures: Making Produce the Star of the Plate
Sweet Euphoria: Navigating the World of Dessert Bliss
Seasonal Splendor: Springtime Delicacies in Full Bloom
Culinary Curiosities: Unearthing the Unusual in Food
Passionate Pairings: Unveiling Dynamic Food Combos
Baking Beyond Bread: Creative Confections from the Oven
Nourishing Nostalgia: Recipes That Remind You of Home
Eco Epicurean: Cooking Sustainably from Start to Finish
Culinary Revolution: Reinventing Traditional Dishes
Flavorful Fiction: Crafting Stories through Your Recipes
Sips and Nibbles: Pairing Perfect Bites with Creative Drinks
Heritage and Heirlooms: Embracing Culinary Legacy
Gourmet Gratification: Elevating the Everyday Meal
From Pot to Plate: The Journey of Hearty Stews and Soups
The Spice Trail: Navigating Exotic Seasonings
Feast of the Fields: Celebrating the Bounty of Summer
Culinary Chemistry: Unveiling the Science of Cooking
Ingredient Alchemy: Transforming Basics into Masterpieces
Cooking Cultures: Diving into Culinary Diversity
Sweet & Savory Symphony: Harmonizing Flavors on Your Plate
Fusion Feasts: Blending Culinary Traditions with Panache
Taste of Adventure: Exploring Uncharted Culinary Territories
Plate Poetry: Crafting Culinary Expressions of Flavor
Bread and Butter: Homestyle Classics that Never Disappoint
Edible Escapes: Transporting Your Palate to Exotic Lands
Farm-to-Table Feasting: Celebrating Locally Sourced Cuisine
Sweet Sensations: Captivating Desserts for All Occasions
The Culinary Curator: Showcasing Treasures from Your Kitchen
Cultural Comfort: Creating Nostalgic Dishes from Afar
Brunch Brilliance: Elevating Your Mid-Morning Gatherings
Kitchen Chronicles: Chronicles of a Culinary Explorer
A Dash of Creativity: Culinary Adventures Beyond Recipes
Cooking Connections: Bonding Through Shared Meals
From Sea to Spoon: Seafood Creations That Shine
The Art of Aromatics: Elevating Flavors with Fragrant Herbs
Flavorful Pairings: Creating Harmonious Food Duos
Sweets and Stories: Nostalgic Desserts and the Memories They Hold
Culinary Curiosity: Exploring Unusual Ingredients
Taste of Adventure: Embarking on Culinary Expeditions
The Culinary Connoisseur: A Journey of Tastes and Textures
Plating Perfection: Transforming Meals into Visual Feasts
Sip, Savor, Repeat: Guided Tasting Tours Through Cuisine
Baking Bliss: Artful Creations from the Heart of Your Oven
Culinary Chronicles: Tales of Gastronomic Discovery
Mouthwatering Memories: Recipes That Capture Life's Moments
Gourmet Gatherings: Creating Exquisite Dining Experiences
Culinary Chemistry: The Science Behind Flavor Transformations
Epicurean Escapes: Dream Destinations Through Food
Nurturing Nutrition: Crafting Meals That Nourish Mind and Body
Spice It Up: Unveiling the Secrets of Flavorful Blends
Cooking Cultures: A Journey Through Global Cuisine
Culinary Contrasts: Balancing Flavors for Culinary Perfection
Feasting on Nature: Celebrating Earth's Bounty on the Table
Baking Poetry: From Flour to Fantastic Confections
Culinary Chronicles: Unraveling the Stories Behind the Dishes
Flavor Fusion: Where Culinary Worlds Collide
Savoring Simplicity: Elevating Basic Ingredients with Flair
Culinary Voyages: Recreating Dishes from Far-Off Lands
Taste of Tradition: Preserving Culinary Heritage
Delightful Discoveries: Uncovering Hidden Culinary Gems
Cooking with Passion: Infusing Heart and Soul into Every Dish
Food and Feelings: The Emotional Journey of Culinary Art
Gourmet Gardens: Cultivating Ingredients in Your Backyard
Sustainable Sustenance: Conscious Cooking for a Better World
Bread Beyond Basics: Baking Beyond the Ordinary
Culinary Chronicles: Tales from Your Kitchen Adventures
Flavorful Journeys: Navigating New Culinary Horizons
Global Grub: Embracing Cultural Diversity Through Food
Epicurean Escapades: Exploring the Uncharted in Cuisine
The Sweet Storyteller: Desserts That Spin Tales of Delight
Savor the Moment: Creating Culinary Experiences to Remember
Sustainable Swaps: Elevating Eco-Friendly Eating
Culinary Crossover: Blending Culinary Cultures with Finesse
Ingredient Spotlight: Celebrating the Heroes of the Plate
Sensory Symphony: Crafting Dishes That Dance on the Palate
Flavors of Home: Nurturing Nostalgia Through Food
Kitchen Alchemy: Transforming Ingredients into Culinary Gold
Culinary Journeys: Embarking on Flavorful Expeditions
Feast for the Eyes: Creating Artful Culinary Presentations
Heritage Harmony: Fusing Flavors from Generations Past
Beyond the Oven: Creative Baking Adventures
Nurturing Nature: Savoring Ingredients Straight from the Earth
Gastronomic Globe-Trotting: Adventures in International Cuisine
Culinary Creativity: Where Imagination Meets Ingredients
Palate Pleasers: Crafting Dishes That Delight the Senses
Culinary Quests: Seeking Flavors Far and Wide
Sweet Sensations: Indulging in Desserts That Spark Joy
Food and Family: Recipes That Create Heartfelt Connections
Flavorful Flights: Exploring the Range of Culinary Tastes
Plant-Powered Palate: Elevating Vegetable-Centric Creations
Culinary Chronicles: Documenting Your Delicious Adventures
Taste of the Wild: Embracing Foraged Ingredients
Feasting with Friends: Celebrating Shared Culinary Experiences
Savoring Summer: Vibrant Flavors of the Season
Crafting Culinary Memories: Dishes That Mark Special Occasions
Gastronomic Gems: Exploring Culinary Hidden Treasures
Culinary Harmony: Blending Flavors for Perfect Pairings
Bread Baking Bliss: Creating Artisanal Loaves at Home
Taste of Traditions: Passing Down Family Recipes with Pride
Flavors of Change: Navigating Culinary Trends with Panache
Epicurean Excursions: Tasting Your Way Through Culinary Destinations
Culinary Chronicles: Sharing Stories Through Flavorful Feasts
Taste the Adventure: Exploring Global Flavors in Your Kitchen
Culinary Palette: Painting Plates with Flavorful Artistry
Soulful Suppers: Dishes That Warm Hearts and Fill Bellies
From Garden to Gourmet: Showcasing Freshness on the Plate
Flavor Chronicles: Tales of Taste and Culinary Exploration
Baking Beyond Boundaries: Whimsical Confections and Creations
Feast and Friends: Gathering Around Flavorful Tables
Culinary Alchemy: Transforming Ingredients into Culinary Gold
Plated Poetry: Crafting Edible Elegance with Every Dish
Flavors of the Season: Embracing Seasonal Ingredients
Cooking Communion: Creating Connections Through Food
Spices and Stories: The Intriguing Journeys Behind Flavors
Elevating Basics: Turning Everyday Ingredients into Culinary Triumphs
Culinary Quest: Embarking on Flavor-Filled Expeditions
Taste and Tradition: Honoring Culinary Heritage Through Dishes
Gourmet Getaways: Recreating Culinary Souvenirs at Home
Harmony on the Plate: Balancing Flavors for Culinary Perfection
Culinary Discovery: Unveiling Hidden Gems in the Kitchen
Savory Soirees: Hosting Unforgettable Dining Experiences
Cooking Chronicles: Stories That Unfold Through Culinary Adventures
Bountiful Bites: Celebrating the Abundance of the Table
Taste the Past: Reviving Age-Old Recipes with a Modern Twist
Culinary Magic: Conjuring Enchantment Through Creative Cooking
Epicurean Expeditions: Journeying Through Culinary Landscapes
Crafting Cravings: Satisfying Food Desires with Culinary Art
Flavorful Phrases: Expressing Emotions Through Edible Delights
From Farm to Feast: Showcasing the Journey of Fresh Ingredients
Gastronomic Journeys: Navigating Culinary Pathways
Sensational Stews: Exploring the Richness of Hearty Soups
Culinary Chronicles: Writing Stories Through Culinary Creations
Sweet Symphony: Crafting Desserts That Dance on the Tongue
Feeding Curiosity: Navigating Unusual Ingredients in Cuisine
Plates of Passion: Infusing Heartfelt Emotion into Dishes
Spices and Senses: Captivating Palates with Aromatic Flavors
Culinary Chronicles: Tales of Exploration and Flavor Discovery
Elevated Eats: Uplifting Everyday Ingredients to Gourmet Heights
Taste of Togetherness: Bonding Through Shared Culinary Experiences
Farm-to-Table Tales: Celebrating Freshness in Every Bite
Flavors of Enchantment: Creating Magic with Culinary Art
Culinary Diaries: Capturing Moments Through the Art of Food
Harvesting Memories: Crafting Dishes That Evoke Nostalgia
Sensory Explorations: Unveiling the Secrets of Flavor and Aroma
Savoring Stories: Culinary Narratives Told Through Food
Baking Bliss: Creating Confections with Heart and Imagination
Culinary Chronicles: Recording Journeys Through Flavorful Feasts
Elevating Elegance: From Ordinary Ingredients to Extraordinary Dishes
Plated Prose: Crafting Culinary Narratives on the Plate
Feast and Family: Sharing Culinary Traditions with Loved Ones
From Market to Meal: Embracing the Bounty of Fresh Ingredients
Culinary Curiosity: Unveiling the Intrigue of Unknown Ingredients
Taste of Innovation: Embracing Culinary Creativity
Savory Stories: Navigating Culinary Adventures with Flavor
Flavors of Fellowship: Creating Bonds Through Shared Meals
Culinary Journals: Documenting Adventures in Flavor Exploration
Epicurean Evolution: Adapting Classic Recipes for Modern Palates
Plating Poetry: Crafting Visual Artistry with Every Dish
Feeding Imagination: Inspiring Culinary Creativity in the Kitchen
From Scratch to Spectacle: Crafting Culinary Masterpieces
Culinary Chronicles: Weaving Tales Through Flavors and Dishes
Taste of Culture: Celebrating Diversity Through Food
Baking Bliss: Elevating Pastries to Artful Delights
Culinary Canvas: Creating Edible Art on Every Plate
Savoring Stories: Crafting Culinary Narratives with Taste
Flavors of Fellowship: Nurturing Connections Through Cuisine
Culinary Journeys: Embarking on Flavor-Filled Adventures
Elevated Eats: Transforming Simple Ingredients into Culinary Gems
Plated Poetry: Expressing Culinary Artistry with Every Dish
Taste of Heritage: Preserving Culinary Traditions Through Time
Harvest and Heart: Celebrating Freshness and Flavors
Culinary Chronicles: Writing Stories Through the Language of Food
Join our Digital Marketing Community & Courses and Achieve your Goals
We all have blind spots. A community, advisors, and step-by-step courses can help you see what you're missing and grow faster than ever before.