9 Tips To Make Your NGO's Website Effective in 2023
Want to receive more donations for your NGO? Check out these simple to follow, yet important tips by Koen West to optimize your website.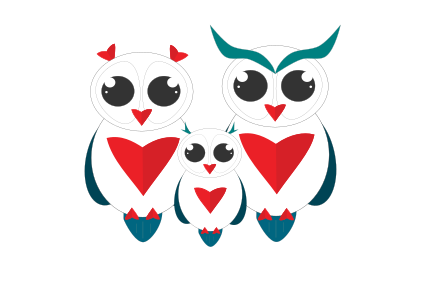 A poorly designed or poorly structured website really doesn't fly anymore. Over 52% of all website visits come from mobile devices and people expect nothing less than a mobile-optimized, fast loading website that's easy to navigate and well designed.
Unfortunately, as a web designer, I still encounter many websites that look like they haven't been updated since 2003, or that have broken elements (like dead links) on them.
And maybe you're thinking; "Optimizing our website isn't that important. It works, it's online, we're fine". That may be true, but the fact is; you're losing out on potential donations and collaboration opportunities, simply because you don't come across as trustworthy.
That's why I've listed 9 tips to make your NGO's website as effective and awesome as possible.
Have a mobile-optimized design
As I mentioned earlier, over half the people who visit your website are on a mobile device. If your website is not optimized for mobile, it will look bad and scare your visitors away faster than a scarecrow scares … well, crows.
And it isn't just about looks. A website that works okay on desktop but that's not optimized for smaller screens will lose its intuitive navigation and becomes way more difficult to read on a mobile device or tablet.
Obviously, this mobile trend isn't going away so you should optimize for mobile today. Some interesting facts about mobile:
80% of internet users own a smartphone
Over 50% of smartphone users grab their smartphone immediately after waking up.
57% of users say they won't recommend a business with a poorly-designed mobile site.
68% of companies have integrated mobile marketing into their overall marketing strategy.
58% of companies surveyed have a dedicated mobile marketing team.
Mobile email opens have grown by 180% in the last three years.
You don't need to build a separate mobile website since most content management systems (like WordPress) are already fully optimized for mobile.
But it's still important to check everything. Make sure every button, image and element works just as well on mobile as it does on desktop. The mobile version obviously looks different and often there will be broken elements that should be fixed.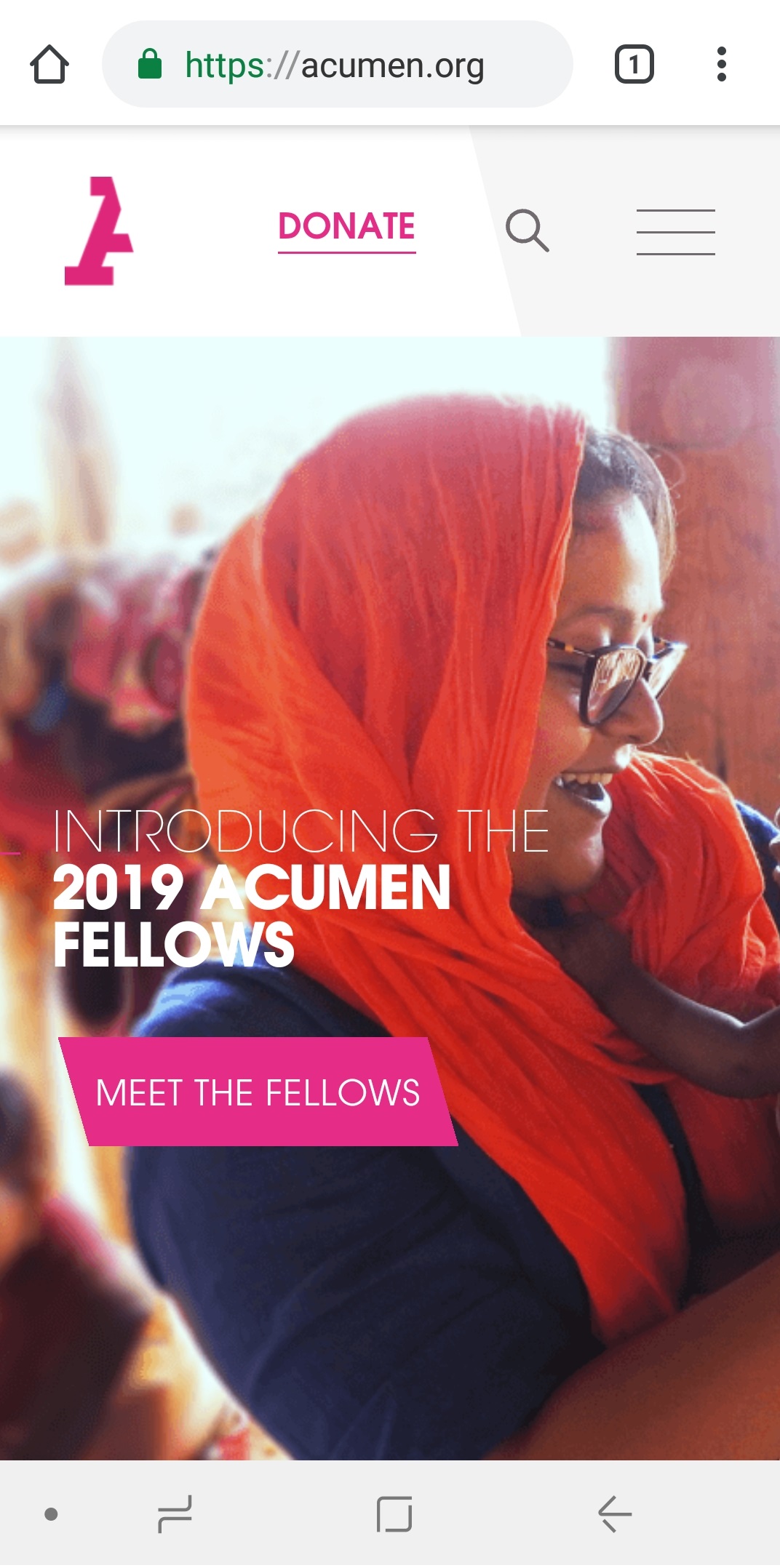 Make things easy to find
Why do people visit your website? It's probably to learn more about your NGO or to donate money to your cause. If your website is not easy to navigate, people are likely to just leave.
Make sure all information is easy to find and a "Donate" button is prominently displayed on your navigation bar and elsewhere on the site.
Speak your target audience's language throughout your copy and make sure you're consistent in your wording and your message.
Did you know that given 15 minutes to consume content, two-thirds of people would rather read something beautifully designed than something plain? (Source: MTD Sales Training)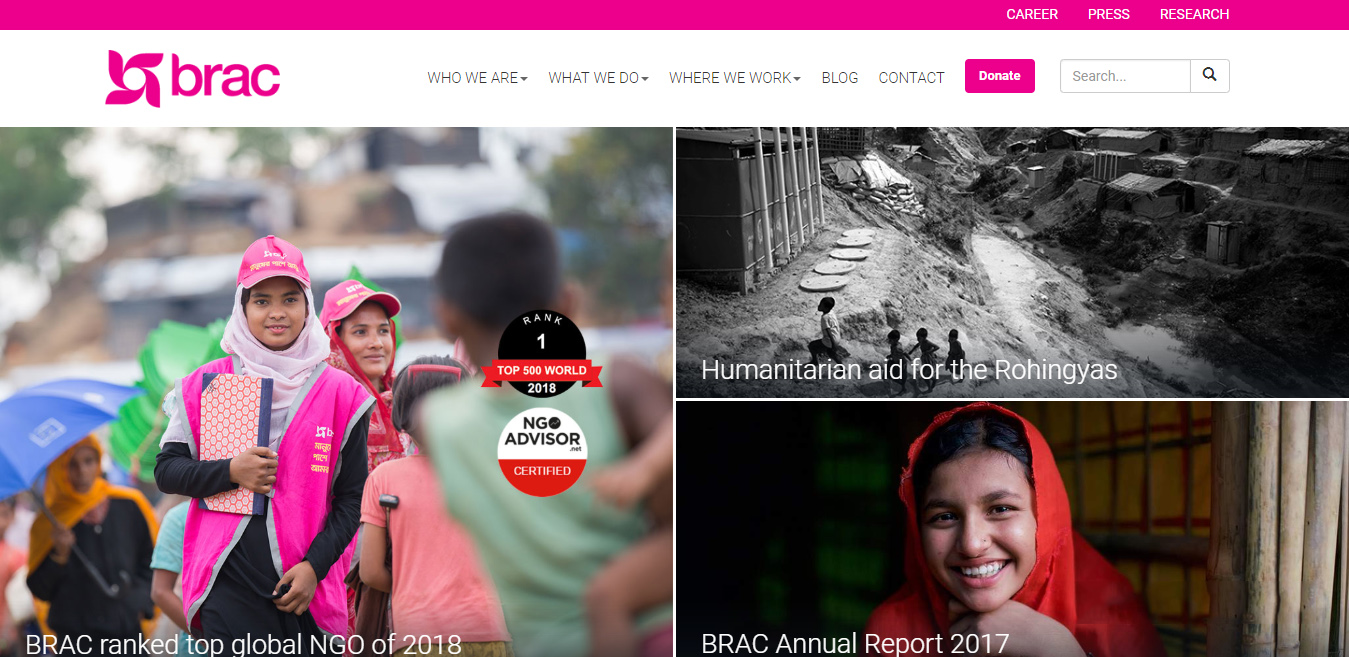 brac.net; an example of a well-designed website. A donate button in the navigation bar + all other essential menu items
Capture emails
If your website is not optimized to catch the visitor's email address, you're doing it wrong. Most of your website visitors will look around, perhaps read something, and never come back. If the only way to get people on your email newsletter is by them making a donation, that means you're only getting a tiny fraction of your website visitors on there.
By having a clear call to action on your website for your newsletter sign-up, your email list grows much quicker.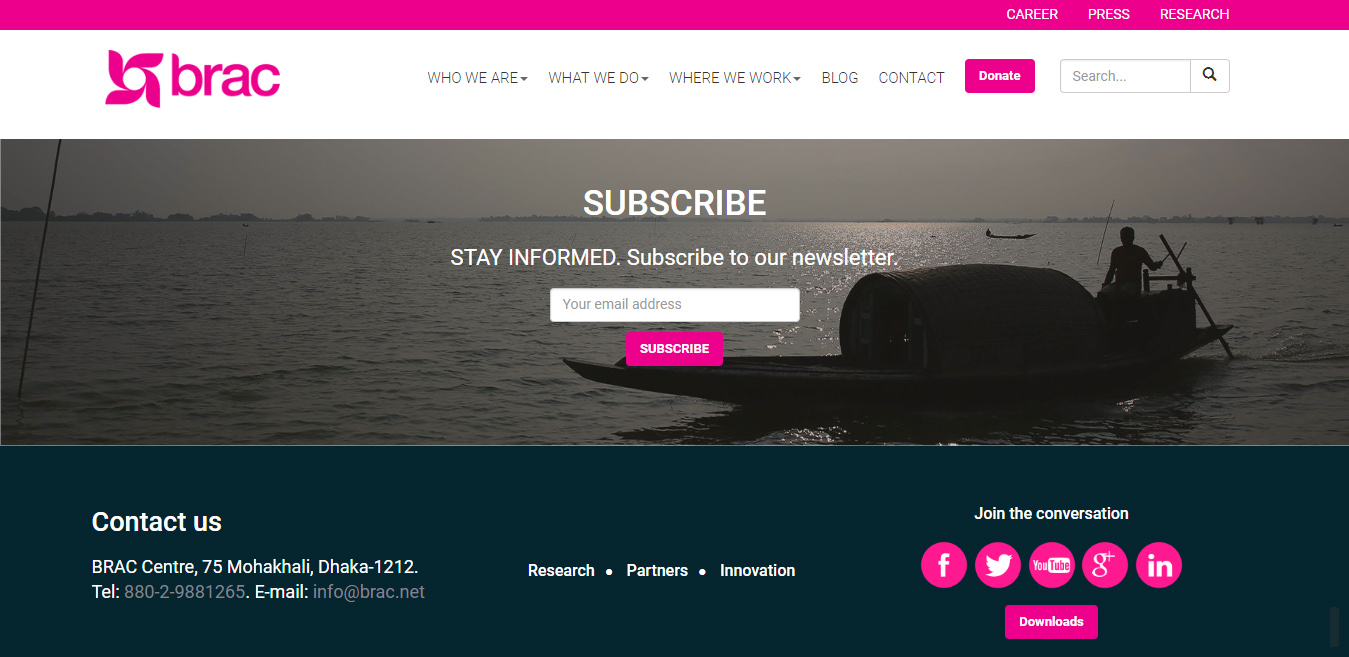 A good example of a newsletter sign up section on the homepage
Have an email newsletter
An email newsletter is a great way to turn casual visitors into dedicated ambassadors to your cause. You get to tell your subscribers about your NGO and what it does, without spending a penny on advertising.
It also serves as a tool to get new donations on a regular basis while updating your fans with news about your brand or your cause in general.
Email marketing is huge and, if done right, very profitable. If you're not convinced about the importance of regularly running email campaigns, here are some interesting facts:
I personally use MailChimp as my email newsletter software of choice. For less than $10 a month I get to send as many emails to my subscribers as I want and talk about anything. What I like most about MailChimp is its extensive campaign and automation set-up. You can schedule as far into the future as you want and let MailChimp find the optimal times to send each email.
If you're new to MailChimp and want to learn how it works, here's a good video tutorial.
Make it fast
Having a slow loading website in 2021 is a big no-no. 40% of people abandon a website that takes more than 3 seconds to load, and those who stay will obviously be annoyed. To make matters worse, a slow loading website also lowers your search engine rankings in Google. Who would want that?
If your website is on WordPress, you can use a caching plugin to speed your site up. I personally use W3 Total Cache, which does all sorts of compression to make pages load much, much faster.
To get an idea of your current website speed, check out Pingdom and GTmetrix. These free tools run a quick scan over your website and give you a report on website speed. After you've optimized your site for speed, try again and see the difference.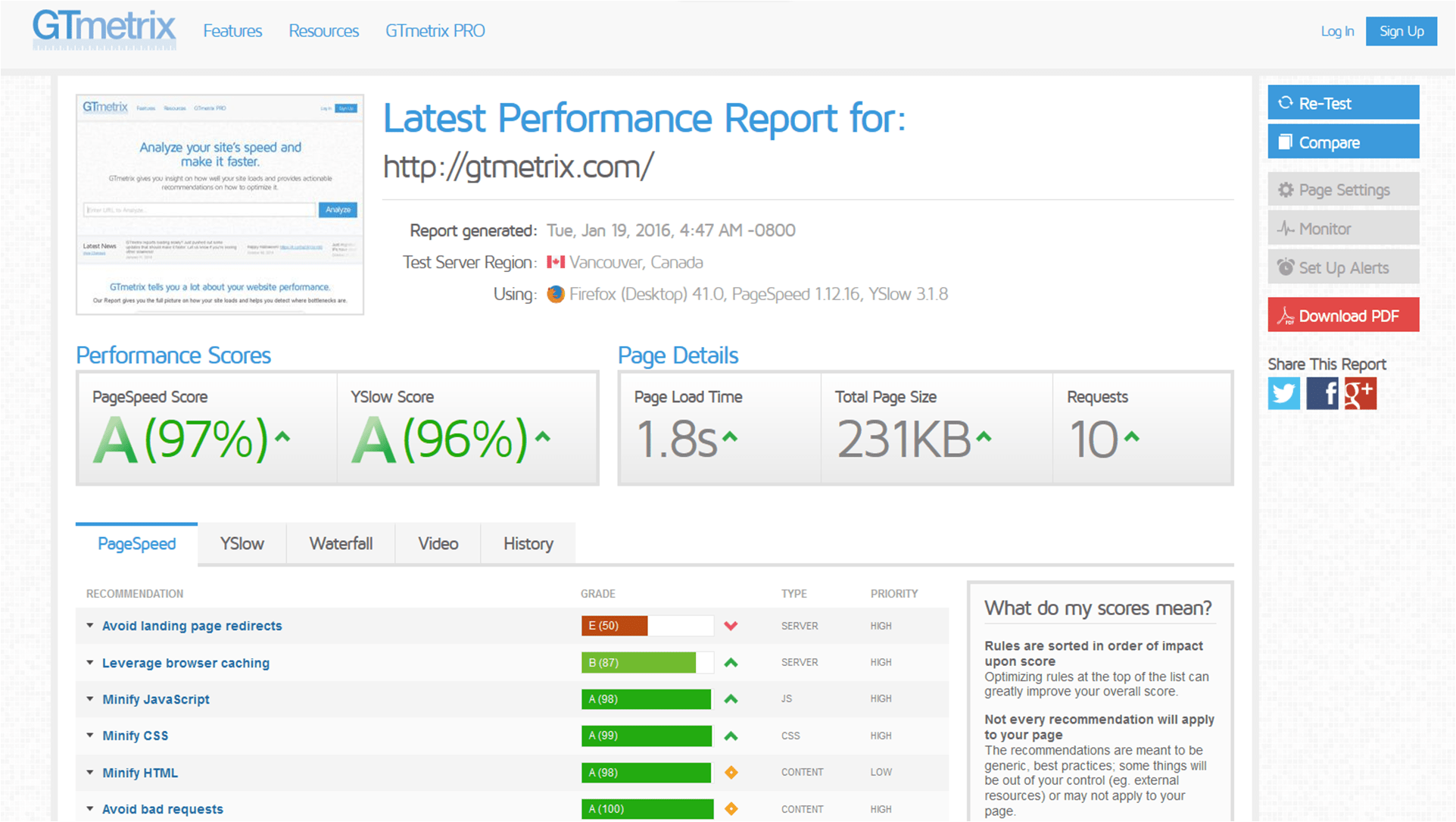 Get a full report of your website loading speed with GTMetrix
Optimize it for search engines
When people search for your nonprofit in Google, do they find your website? Do your blog posts rank for the search terms you want them to rank for?
If the answer is no, it's time to work on your SEO. Make sure every blog post is optimized with page titles and meta descriptions that match the keywords you're trying to rank for, as well as every page and your home page.
If you're using WordPress, the best plugin to use is Yoast SEO. Yoast lets you create an XML sitemap for Google and optimize each individual post and page. It's 100% free and 100% awesome.
Fun fact: Yoast is a made-up name, derived from the Dutch maker's name Joost. If you're not Dutch, this fact may not be as fun.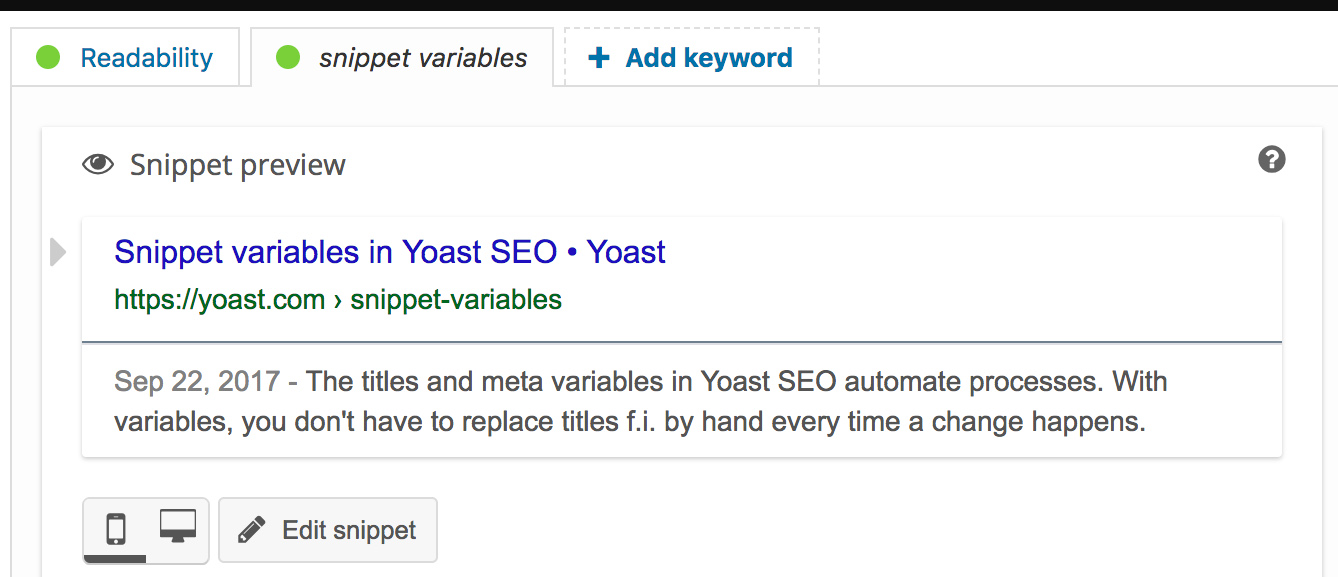 Comply with the law
Your organization and its website must be compliant with all applicable laws. Although that goes without saying, many website owners are not yet fully aware of the latest GDPR data storage laws.
In short, the EU General Data Protection Regulation (GDPR) is the most important change in data privacy regulation in 20 years (source: eugdpr.org). Every website that can be visited by persons within the EU (aka every website on the internet) must comply with GDPR, even if your NGO is based elsewhere.
If you haven't already, I suggest you read up on the requirements and become fully compliant with this EU data law. WPBeginner, my favorite WordPress blog, has a great article on this.
Have a great about page
Many people who visit your website and want to learn more about your organization, will skip straight to the About page. Treat your about page like an extensive business card. It's the place where people go who want to donate, collaborate with you, write about your organization or place a link to one of your articles on their own website.
A great about page clearly states who you are and what you do. I know, obvious right? Yet many business owners fail to write a compelling, well-structured about page for their company.
A few simple rules to follow:
Make it very obvious what you do, within the first sentence (see example below). This is not the place for corporate jargon or indirect language, unless that's what your target audience speaks.
Write a compelling story. Nobody likes boring, you know why? Cause it's boring. Write a compelling story. This can be your origin story or a few relevant, one-sentence case studies of people or organizations you've helped.
Keep it short and sweet. Although a compelling story is great, your about page isn't the place for a 20-page essay on how the NGO was born. You can link to multiple other pages, like a separate origin story page or testimonials, but try to keep your About page short and sweet.
Include credentials. What has your NGO done so far? Who have you worked with? Who are the people behind it?
Use text, maybe video. People want to read, and so do search engines. That's why I don't recommend only putting a video on your about page. Video can be used in addition to text, but there should always be some text accompanying a video (if you have one).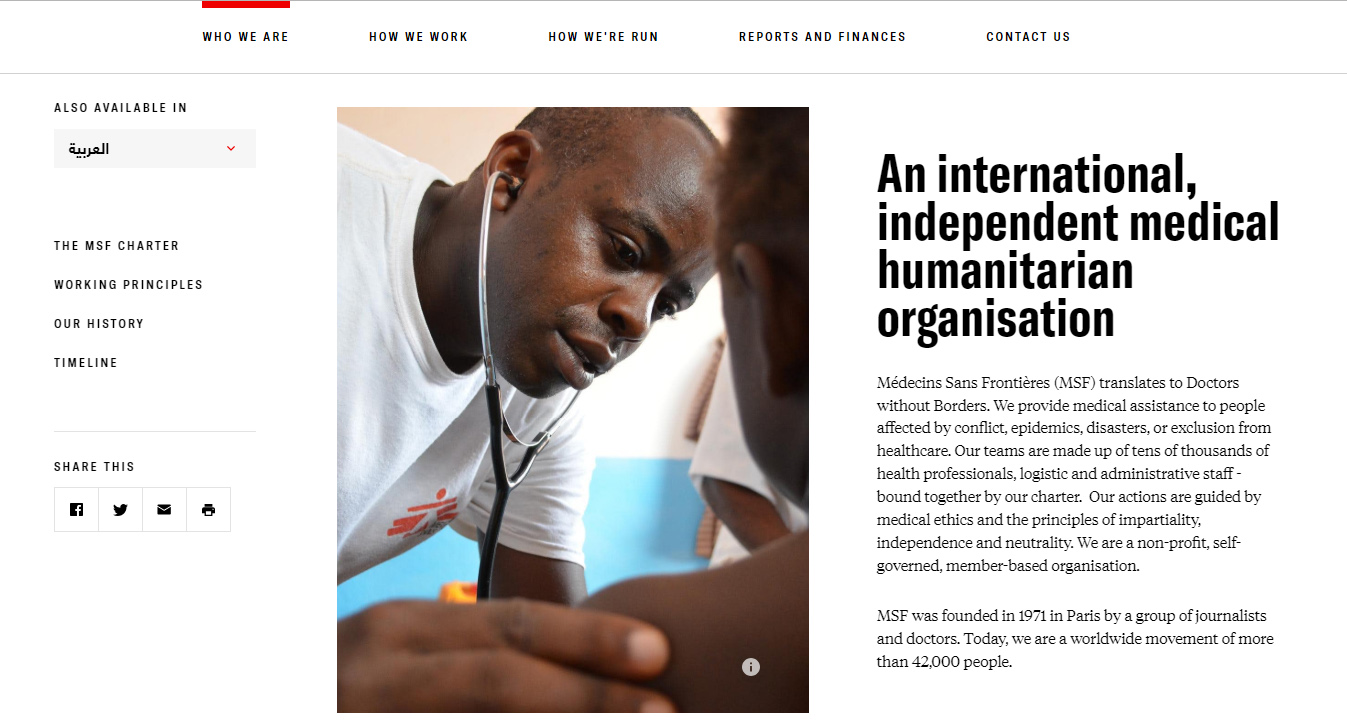 msf.org; a good example of a clean, clear about page with sharing buttons
Double check everything
When I build websites for my clients, I go through many phases of double, triple and quadruple checking everything. Here's a little checklist you can use when you're checking everything on your website:
Technical:
Does it look good on mobile?
Is the loading speed good?
Are any of my links broken?
If you're using a theme, is there still demo text anywhere on the site?
Are my fonts and colors consistent?
Is every page optimized for mobile?
Do all my contact forms and newsletter sign up forms work?
Less technical:
Is my message clear?
Will random visitors understand what we do within the first 3 seconds of seeing the site?
Am I getting the most out of my website traffic (am I capturing email addresses)?
Is the flow and navigation of my website intuitive?
Is it easy for people to contact me?
Is it easy for people to find us on social media?
Do I make it very clear how people can contribute?
About the author:
Koen West is a web designer, internet entrepreneur and comedian. Thanks to his years of experience running websites and online businesses, he knows exactly how to build websites that are optimized for conversions.
You have a story to tell. We want to help.
Let's create memorable content and reach tens of thousands of people.