Targeting Featured Snippets Via Organic Marketing [How-To Guide]
Are you looking to increase your Organic Traffic? Check out how to target Featured Snippets and improve your Organic Marketing.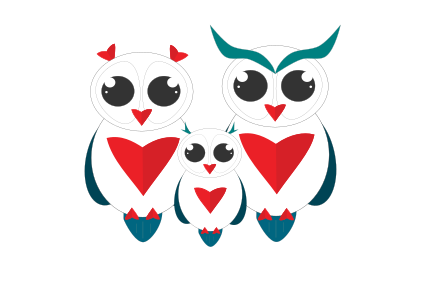 Over the years, with the rise of internet capable mobile devices, Google has been evolving the way it lists and displays the results to a search query. One of the most important, yet controversial changes, in my opinion, has been the addition of more and more featured snippets to the queries searched.
Now that may seem like a good deal to many, but in actuality is quite bad for organically ranking links. So, does that mean that featured snippets and organic content marketing strategies work against each other? Or can they be used in conjunction in order to boost your existing content to the top of Google's search results? 
Let's find out. 
What is a Featured Snippet?
Featured snippets are little snippets or selections of content from different web pages that relate to your search query. They are used to display the answers to your search term, without having to visit the page itself. 
Generally, these featured snippets are placed above the Google's normal SERPs, but below the advertised pages, all to give users greater value for their queries. Take, for example, the image below. When looking up "how to make croque monsieur", you see that as there are no ads for this search query, the first SERP appears just below the grid of top croque monsieur recipes.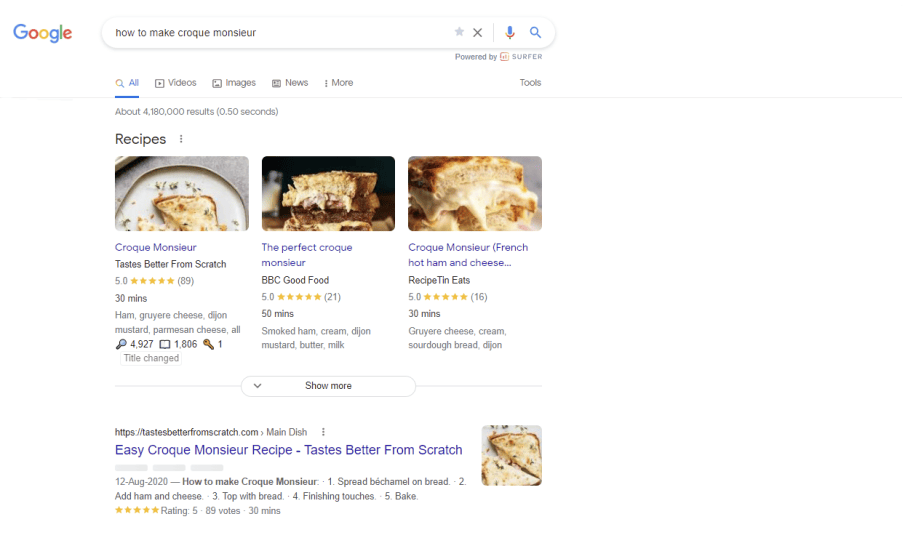 The top of the search results shows a grid of selected recipes on how to make a croque monsieur. Instead of having to scroll down to look at each individual link separately, the search engine collects all links which correspond to my search intent. 
That is why the featured snippet is so important. While your actual link may rank a little down on the SERPs, your featured snippet will ensure that people see your content if it's what they are looking for. 
Why Do I Need to Know About Featured Snippets?
The entire purpose of the content we publish online is to address and solve a consumer's query. Now, in order for the consumer to know that your content can help them, your content needs two basic things.
It needs to be visible when a consumer searched for it
It needs to answer their query, as clearly as possible
For the first factor, being visible today means to rank high on SERPs. But what if your content is able to address to the searched query better than other results, you can rank even higher than the first link of Google's SERP. 
This is something that every SEO professional hopes to achieve, in order to boost their site's visibility and traffic. In its early days, featured snippets allowed a site with a featured snippet to achieve two results on the first page, one as a featured snippet box, and the other as a ranked page. 
However, nowadays, a link displayed on a featured image box is not displayed in the SERPs. That is because Google wanted to clean up the results display, making it easier to find the right solution. 
It is true that targeting for featured snippets via organic marketing techniques boosts your website traffic. But it also helps you create content that is designed according to the consumer needs, which is something you need in order to establish your brand credibility in the market. 
Like the recipe grid above, featured snippets can take a variety of forms, from simple answers to the questions, to ordered and unordered lists, and even videos. Let's take a look at some of the more popular types of featured snippets. 
The Different Types of Featured Snippets
Depending on the search query, there can be different types of content that can appear on featured snippets. For example, let's say that a user searches how to create a short cover letter sample on Google.
Now the answer to that query can be in the form of a step-by-step instruction guide, a checklist table on what you need to add to the cover letter, an instructional video, or even an online cover letter designer tool.
Whatever your mode of content delivery, you need to ensure that it addresses the consumer's query directly, in a way that makes it easy to understand the solution. Let's look at some of the common types of featured snippets we see on Google every day. 
1.  Featured Snippet Lists Example
Lists are one of the more common types of featured snippets, after paragraphs. You can find them in a number of formats, from numbered or ordered lists, to bulleted or unordered lists. These kinds of featured snippets are usually found for queries where the user needs to know a number of options for their query, such as in the example below.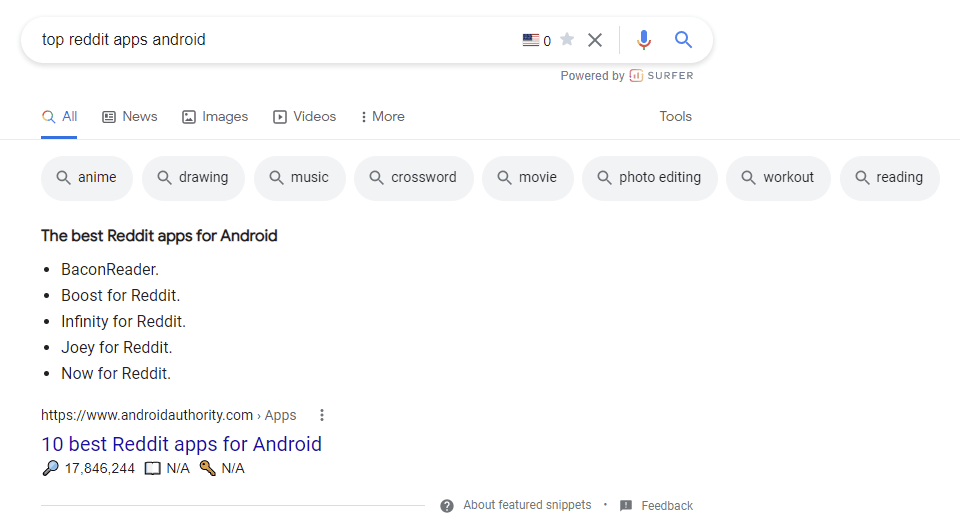 However, your list-style featured snippet can also be used to display a set of instructions for something, such as how to check the engine oil level in your car. In short, lists are used where the keywords HOW and WHY are used, and where the answer would have been confusing had it been in the form of a paragraph. 
2. Featured snippet Videos example
Videos are one of the less common types of featured snippet content we see nowadays, despite the popularity of video content nowadays. The reason for that is that unlike your written content, it is hard to ensure that your video's content is ranked high. That is because the concept of keyword research and SERP ranking is one that is still foreign to the popular video streaming platforms.
However, if you are able to optimize your video with the right keywords, with low competition, you will be able to rank your content as featured snippets easily. 
3. Paragraphs example
The vast majority of featured snippets available for different queries are in the form of paragraphs. Ranging in length from 40 to 50 words, or 250-350 characters per answer, they are usually direct answers to a user's queries.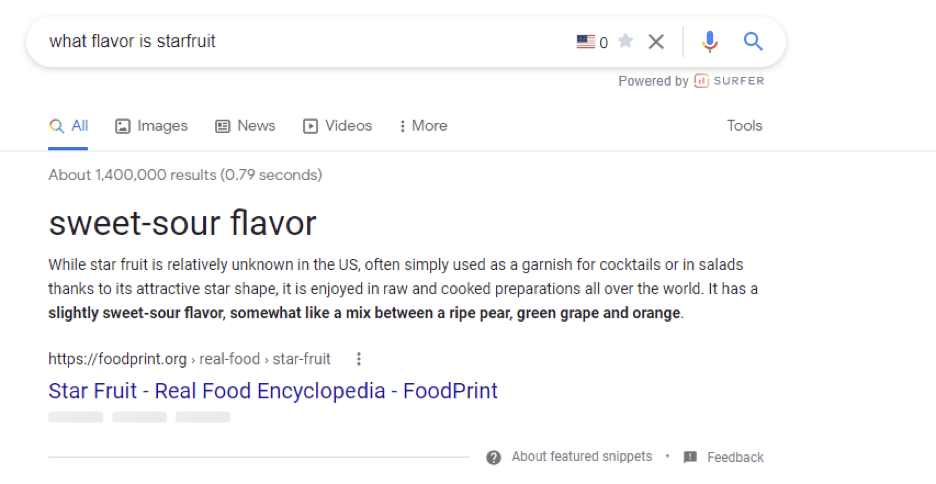 Most of the time, it's the WHAT and WHY questions that are answered using a paragraph featured snippet, as they are commonly designed to inform the reader. 
4. Featured Snippet Tables Example
Tables are another less common style of featured snippet. With a word count similar to the paragraph style, they usually display two to three columns with five or six rows as your featured result. For a longer table, users have the option to view it completely by clicking on your link.
In order to rank it on featured snippets organically, you need to use the right table tags in HTML when formatting your table content. However, if you jazz up your table with some graphics rather than using plain HTML, you will be unable to get your table ranked on a featured snippet. 
5. Rich Answers Example
Rich answers, like the one given below, are usually the answer to a search query given in bold along with additional information accompanying it. These answers are usually short and to the point and are usually available for queries with fact-based answers.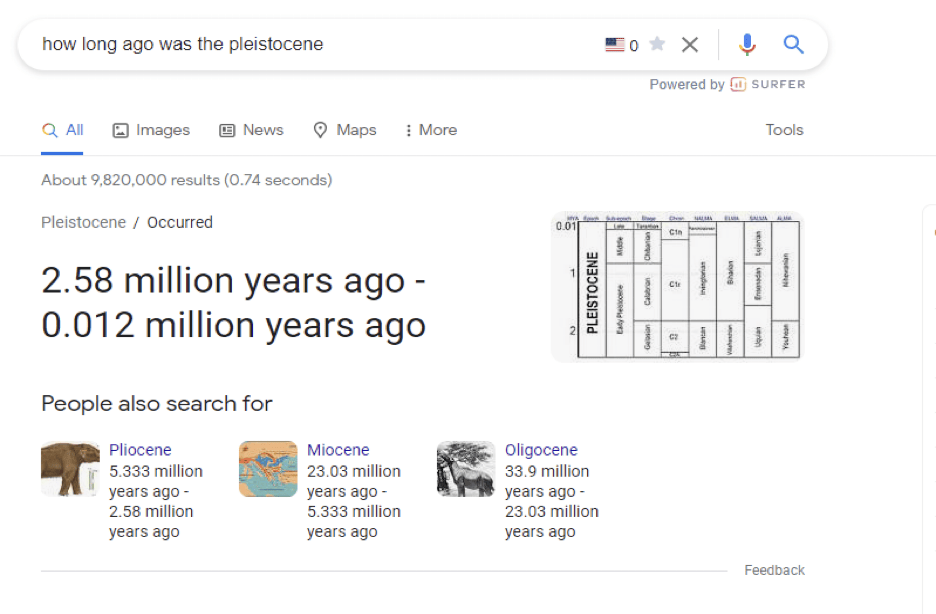 One of the more common snippets in the form of rich answers are those that relate to the dictionary, thesaurus, or the encyclopedia. 
6. Featured Snippets Web Tools Example
Web tools are often used by many of us for quick calculations and interactions, where the answers may differ based on individual user input. For example, you can look up an online currency conversion calculator, a mortgage calculator, a flight availability and tracking tool, and much more. 
Other common uses for web tools in featured snippets include unit conversions, time zones, weather updates, sports scores, and more. 
Targeting Featured Snippets – How to Do It Organically
Now that you know the different forms a featured snippet can take, the next step is to figure out ways for targeting featured snippets using organic marketing techniques. 
When we talk about organic marketing techniques, we mean the process of optimizing our content in ways that will help the Google algorithms see their value, thus ranking them higher. And the techniques listed below can help you do just that. 
1. Go for Question-Based Search Terms
As we have seen in earlier, question-based terms with keywords HOW, WHAT, WHY, WHO, WHEN and more can help you address the user's query directly. This increases your chances of appearing on a featured snippet.
2- Organize Your Pages Using Proper Headings and Paragraphs
Proper structuring of your content using the right headings and paragraphs allows you to discuss different points in detail without losing their essence in the entire narrative. This also allows Google to find the right piece of content that relates to the user's queries, which makes it possible to optimize your content for different forms of that query for a better chance at a snippet. 
3- When Possible, Opt for Steps-Based Answers
Step-based answers, or lists, are one of the more common types of featured snippets. And if you have content that can be given in the form of a list, such as instructions on making a grilled cheese sandwich, a step-by-step list will be better than a paragraph explaining the process. 
4- Target Answers Within a 50-60 Words Limit
The average length of an answer in a featured snippet is around 42 words, which makes it easy to get the point across to the user without diverting onto a tangent.  For example, let's say you are searching for creative ideas for social media captions for Halloween. Now, your top go-to resources would be ones that get right onto what you are searching for, instead of going into the history of Halloween itself. 
Conclusion
Targeting for featured snippets using organic marketing techniques can be quite beneficial for your business, at no additional cost. But if done well, it has the potential to boost your website's visibility and traffic quite significantly. 
And with recent additions to the Google Search's featured snippets, such as the "Also Covered On This Page" section, it can be a great tool for a content marketer to establish their brand in the market. Now that you know how you can optimize your content to get it onto featured snippets, you can get a leg up on your competition to attract new leads, and increase conversions. 
Author Bio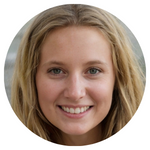 Hailey Savona is a content consultant at leading content writing agency eContentSol. She has a vast experience of providing web copywriting services and content strategies. Beside this, she enjoys an occasional steak dinner.
You have a story to tell. We want to help.
Let's create memorable content and reach tens of thousands of people.